Fire up your engines – it's time for the Hub City Car Show! This much anticipated annual tradition will take place on Saturday, August 24 from 9:00 a.m. to 4:00 p.m. on Tower Avenue in Centralia. Attendees will be wowed by 300 awesome vehicles on display. The best part? One lucky winner will drive away with something exciting! "We always get a big crowd when Live 95 does their car giveaway," says Centralia Chehalis Chamber of Commerce Executive Director Alicia Bull.
The official turning of the keys will take place on August 24 at 1:00 p.m. Sign up in advance and don't forget to attend the main event. It's always fun to see who drives away with the new vehicle – it might even be you!
The Hub City Car Show is fun for individuals, couples and the whole family. Bring the kids out for a fun day in the sun. They'll learn about all kinds of fascinating cars and a few cool pieces of history – and that's just the beginning. They'll love Bethel Church's KidZone inflatables and exploring all the unique vendor booths.
Adults can enjoy a nice, cool brew at the beer garden, sponsored by the Olympic Club and Dick's Brewing Company. It's a great way to relax, savor the moment, and support a great cause; all beer sale proceeds go directly to the Chamber's Rob Fuller Scholarship.
The Chamber is all about #shoplocalfirst. So, why not make a day of it? After perusing the show, meander the scenic streets of historic downtown and grab a bite to eat at one of the delicious local eateries. It promises to be a beautiful day.
The Hub City Car Show is a major undertaking, hosted in partnership by the Chamber and the Quarter Miler Car Club. Members of each organization work throughout the year to make it a reality. "We start marketing and promoting the show in January and have been receiving registration forms for months from anxious car owners," Bull says. "We coordinate all the street vendors as well."
This year, event sponsors include Live 95, Callisons, KITI, Lucky Eagle Casino & Hotel, I-5 Cars, O'Blarney's, KELA, KMNT, City of Centralia, Bethel Church, Olympic Club, Cutting Edge, Port of Centralia, Alderson's Awards West, Les Schwab, Uncle Ando's Wurld of Weed, Allstate, Dick's Brewing and The Chronicle.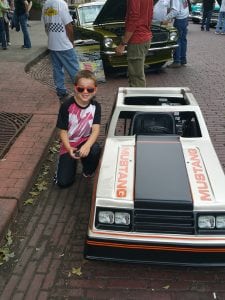 Is your car show-worthy? If so, sign up and show it off. You'll love the Hub City Car Show atmosphere and the opportunity to talk shop with other automobile enthusiasts. It only costs $20 per car and the first 300 entries receive a goodie bag full treasures. "The bags are filled with items from local businesses," Bull says. "The hopes are that local people, and people that travel from out of town, will enjoy a little flavor of what our community has to offer. There are fun trinkets, coupons, discounts and more in each bag. Our goal is to use the event as a way to generate local sales for local businesses."
Sign up today to display your car at this fun local event. Or just turn out for the big day and have a blast. As Bull says, "Whether you bring a car or come to look at the cars, the Hub City Car Show is a lot of fun for everyone."
The Hub City Car Show
Saturday, August 24
9:00 a.m. to 4:00 p.m.
Tower Avenue
Centralia
Sponsored