For many families in Lewis County, summer means haying season. For the Larsons, this time of year is all about family and passing on the values of hard work and community to the young men they hire.
The Larson Family started haying in the 1960s and have passed the tradition down for three generations. Roy Larson started helping the family with haying when he was just 10 years old. "It taught me how to persevere," said Roy. Looking up to the strength and speed of his brothers as they lifted 9,000 30-40 pound bales inspired his childhood dreams of strength. His brothers were not so enamored. "They would say, 'Get out of the way or throw me a bale,'" Roy said.
He was about 16 years old when he was finally strong enough to lift the bale up onto the truck himself. By 19 years old he had reached his prime in speed and strength. "People started looking up at me that I was the hay boss or the crewman," said Roy. His brothers gladly passed the mantel of leadership to him as they moved on to other work that needed doing. After high school, Roy's father invited him to stay on at the farm. Roy accepted.
Shortly after, Roy's father passed away in an accident. The first haying season without their father, the sons realized that he had always run the baler. None of them knew how. "It's kind of a complicated machine," said Roy, "so that was hard in many different ways."
Usually, in the evenings, their father would go ahead of them baling hay while they picked it up. "We had to do that in the morning and make hay in the evening because he wasn't there," said Roy.
Switching from haying in the hot afternoon to the cool morning turned out to be a blessing. It wasn't the only one. Roy's father had been dropping hints to a young lady named Amy that his son Roy was available. "She came up to the farm to help with the cows when my dad died," Roy said.
He and Amy eventually married and now have four girls together. "I just went up and didn't leave. So here we are," Amy said.
Being a member of the six-man Larson haying team comes with many perks. The first is the breakfast feed after. "I pray over the food," said Amy, "everyone washes their hands, sits down and we eat. Not that it's pinky's out or anything, but we want to make it nice."
These post haying breakfast feasts are about more than just food. It's a chance to sit at the table and be part of a family. One 16-year-old young man had never sat down to a home-cooked meal with family. "The mama in me is like, come over here and let me feed you," Amy said.
Many young men come looking for a haying job to earn their first paycheck. Many will use it to buy their first car or fill their gas tank with valuable freedom. "It's hard work so we try to pay two dollars over minimum wage," said Roy.
No surprise that it's a competitive position. Not everyone is cut out for it. For Roy, one of the hardest parts of being boss is turning away guys who really want to work but are not strong enough yet. Some who manage to earn a spot show up for day one and then don't come back for day two. Others keep coming back for going on ten years. "It's about community," Roy said. "We spur each other on; try to see who can throw the bale the highest."
One year they had two trucks out. Roy and a partner vs. the other truck's six-man team. Roy challenged them to a race. He recalls that they loaded both trucks in about ten minutes.
"We try to keep it clean, but boys will be boys," Roy said. One year he found a dead snake in his bale and threw it up to his partner. It scared him pretty good. "I felt bad after," Roy said with a smile and a gentle glance towards his wife.
Although humor may be medicine to speed along six hours of hard manual labor, there is more happening on the field than just lifting bales. "I saw my Dad come home with bloody knuckles and burns on his hands," Roy said. "It makes you value what you have."
Many of the young men who come to work for them have never done a full day of work in their lives. Roy said, "They like it because they have gotten up early and feel like they are doing something important – and it is important."
After their time with the Larsons, these young men discover the strength within themselves. They can go on to confidently look for future jobs with their first good reference.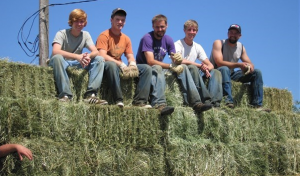 Many new faces have shown up on the haying crew over the years. Quite a few spots are still filled by members of the Larson family. "It's not often you get the opportunity to work with family anymore… everyone is gone at a nine to five job," said Roy.
While part of the family lives far away, they make time to come back during haying season. They stay to work and to reconnect with family. Some of Roy's favorite haying memories are those he made working with his high school friends Mark Warner and Richard and Randy Lester. "They always loved coming up to hay," said Roy.
"I had a Dad who was very patient and taught us that it's going to happen; just sometimes not that day," said Roy.
The Larson's have two farms in the family now. The original farm is The Larson Dairy. Roy and Amy added the second farm to the family about 25 years ago. "Roy Larson Farms" does replacement heifers and organic round bales. Every year they look to hire young men ages 16 and up for the haying season.
The values of hard work and time spent together are not lost in today's fast-paced world. They are being carefully guarded by the enduring faithful who get up early and go to bed late; working the land and opening their doors with welcoming arms to whoever needs to enter. They pass those values on to everyone they meet with a warm smile and, for a lucky few, a hard day's work throwing bales.