Centralia's 4th of July Parade is a highly anticipated annual event. For many local residents, it's as iconic as fireworks. We all share fond memories of relaxing on the sidewalk, watching floats festooned in elaborate finery. But few actually understand the complicated process that makes the parade possible or – more importantly – an annual success.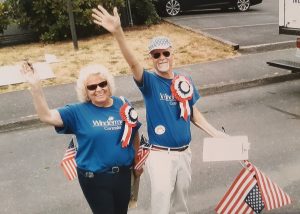 So what does it take to put on a parade?
Let's peel back the layers to see.
A Long List
Hosting a parade requires promotion, managing float and volunteer sign-ups, insurance, registration, porta-potties, police presence, State and City permits, street closures and much, much more. "There are all these parts to it that you don't think about," says Centralia Downtown Association President Tory Graf.
Local parade super-volunteer, Mandi McDougall has a deep understanding of the parade process. After all, she's been the driving force behind both the 4th of July Parade and the Lighted Tractor Parade for seven years. "Mandi is really the lynch pin," says Graf. "I basically do whatever Mandi tells me to."
"That girl displays can-do attitude," says County Commissioner Edna Fund.
McDougall has the process down to a science – and the planning starts early. She and her fellow volunteers select a theme, choose the grand marshal and work out new details at least two months in advance. Next, she puts out the parade application. "Then we wait," she says. "I love seeing the applications roll in, knowing how much hard work goes into creating an entry for the parade. Our participants make it a not-to-miss event!"
The days leading up to the parade are extremely busy. McDougall focuses on getting last minute applications in, descriptions printed and ribbons ready. When the big day arrives, she's one of the first on the scene. "I try to get there early, make sure the spots are marked correctly and that we've got some shade and water ready, because we've been lucky to have a string of pretty sunny days the last few years," she says. "As everyone starts to show up, we are running around making sure we've got enough room for each entry, that our judges have what they need and just generally making sure everything is going smoothly and everyone is happy. Once the parade starts rolling, we hand out the awards and enjoy seeing all the spectators enjoy the show!"
Manpower is a Must – And No One Gets Paid
Volunteers are vital for a successful parade. "Everything that happens for the Summerfest parade is volunteer-driven," Graf says. "No one gets paid. Everyone does it because they want to be a part of it. I think that's one of the things that makes it so special. It's not put on by big organizations – just by people who want to do something fun for each other."
Volunteers must navigate a complex network of tasks and interpersonal relationships to make the day a success. According to Centralia Mayor Lee Coumbs, it requires "a dedicated group of volunteers who are willing to make adjustments on the spot and have the diplomacy to control difficult participants."
His wife, and former Centralia mayor, Bonnie Canaday Coumbs, agrees. "You have to remember that a lot of people give up their 4th of July to make it a great parade," she says. "It takes a lot of work."
"We always have wonderful people to volunteer – and it's no easy thing," says Fund. "It's quite an amazing task."
Show Me the Money
Parades are big fun – and a BIG expense. Who foots the bill? In most cases, you and I – the taxpayers. But for Centralia's 4th of July Parade, one local company decided to cover the cost as a gift to our community.
"Windermere Centralia is the main and only sponsor of the Centralia 4th of July Parade," says Owner Max Vogt. "We give the Centralia Downtown Association $5,000 every year for the sponsorship. That covers closing the main street, police presence and other expenses the City incurs from the parade."
These expenses were originally covered by the City, but parade funding was eliminated around 2007. "We said, 'Wait a minute, we need a parade,'" says Realtor Kelvin Wallin. "Our office just decided; let's make this our parade. We want to do this for our neighbors and friends."
"Our office is always wanting to contribute to our community," says Realtor Laree Neeley. "When the opportunity to help with the 4th of July parade came up, we thought it was a very worthwhile project."
Windermere Centralia's financial backing and volunteer support has kept the parade going ever since. "Max's contribution is so essential to making it happen, along with their constant involvement, support and participation," Graf says.
"We are very thankful for Windermere's continued sponsorship and support," McDougall adds. "Max also rounds up the judges and handles that for us each year, which makes my day easier! With the sponsorship, we are able to cover any costs for the day and have any overages go toward some great programs run by the Centralia Downtown Association."
"I appreciate Windermere's sponsoring this parade," Fund says. "They're an amazing group."
For Vogt, the donation is a gift to the city and its taxpayers. In addition, he absolutely loves it. "How cool is that – to put on a parade for your town?" he says. "As Realtors, we understand that most public events are funded from your property taxes; so covering this event is a really cool gift for us. It's a source of personal pride for each of the agents here at Windermere."
When the Going Gets Tough, the Tough Put on a Parade
Many variables come into play on the day of a parade. Despite months of planning, some go askew like "entries that show up being twice as long as expected and vintage vehicles breaking down mid-parade," McDougall says.
But volunteers don't let this stop them. "I've learned how to think on my feet and just get it done," McDougall says. "I remind myself that the payoff is near, and within a few hours we will be delighting downtown Centralia. We can do hard things!"
Attendees often don't see these hurdles, which is just how the volunteers want it. But still, it's hard to please everybody. For example, people often ask Vogt why the parade doesn't include school marching bands. "People ask this all the time," he says with a laugh. "We'd love to have marching bands but what we've run into is that if school isn't in session, you can't use the school marching band. It just doesn't work that way. But we'd love to arrange it someday if anyone has connections or suggestions."
What makes all the hard work worth it? For Windermere Centralia Realtor Len Noble, it's all about connection.
"People say our country's divided," she says, "but at a celebration like the 4th of July Parade, you're united."
A Labor of Love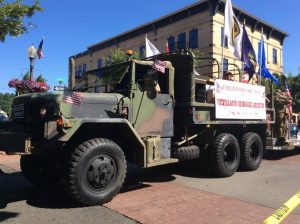 Did you know Realtors only get four days off each year? Unlike most employees, they're expected to work weekends, most holidays and evening hours as well. Each year, they're granted only four days of rest – Thanksgiving, Christmas, New Year's and the 4th of July. "A holiday means you don't have to answer a phone and no one expects you to," Vogt says. "Those four days are sacred to Realtors."
Windermere Centralia agents sacrifice one of their four days off to give the community a parade – and it's not easy. "It's real work," Vogt says. "As judges, we go through and look at every float, carefully considering how enthusiastic they are and each aspect – and it's hot out. My agents volunteer when they'd probably rather be with their own families."
Vogt starts his 4th of July at 8:00 a.m. cooking eggs over a hot grill for the free breakfast in Fort Borst Park. From there, he goes to work on the parade. Afterward, he takes his team out to Baskin Robbins to celebrate. "I'm usually out until about 7:00 p.m.," he says.
The hard work pays off, providing positive community memories for all. For Graf, the 4th of July Parade made a big difference. "It was one of the things that made me want to get involved," she says. "It made me want to be a part of all the things that happened downtown. It's just this crazy, eclectic combination of all these organizations who walk in the parade – just uniquely Centralia."
Fund's favorite memory was the year our local Rosie the Riveters were named parade Grand Marshalls. This group of women worked at the Boeing plant that was located in Chehalis during World War II. Now well into their eighties and nineties, parade organizers arranged for beautiful classic cars to carry the Riveters through the parade. But the Riveters had another idea. "Several of them jumped into the old WWII jeeps that were also in the parade," Fund recalls. "One was holding a rifle in this old jeep with a handsome soldier at the wheel. It just couldn't get any better."
"We truly put it on as a labor of love," McDougall says. Every year, after the first parade float starts to move, she takes a moment to savor the experience. "I take a second to look around and soak up how really lucky we are to live in a town like Centralia," she says. "It's such a 'small town' moment, seeing everyone gathered there to celebrate together …. In a town like Centralia, we will only realize being our best if we all pitch in and do our part. I want my kids to have events to attend, and I want to see Centralia succeed as a vibrant, heritage-rich small town. This is one way we can continue on those traditions."
"We love doing it and we're going to continue doing whatever we can to make it happen," Wallin says.
"It's the pride of it," adds Realtor Sue Romo. "Seeing everybody's faces – it gives me the chills."
Keeping the Experience Sweet and Safe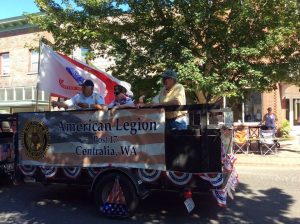 The City of Centralia recently passed an ordinance stating that candy must now be handed directly to parade attendees, who are required to remain on the sidewalk. This rule eliminates the previous practice of throwing candy, in favor of a policy that produces less waste, reduces litter and – most importantly – improves safety. "Most of the people I talked to totally understood it and supported it," Graf says. "The whole purpose of the ordinance was to create this safe environment in which to have fun because we want to keep having the parade."
The policy change was introduced after a few close calls during the Lighted Tractor Parade and the death of a one-year-old girl in Abbeville, Louisiana who was killed by a parade truck while attempting to fetch candy in the street. The City of Centralia decided to take proactive action instead of risking tragedy.
After the ordinance passed, Vogt, who also served as Centralia's Mayor Pro-Tem called the girl's Mayor Pro-Tem to share the news. "I said, 'I want you to know that this child's death brought about positive change,'" he says. "'Our city has changed its laws because of what happened.' He was very moved. I wanted that town and those parents to know that something changed in our country because of it."
Many people think keeping an eye on kids is sufficient, but the Louisiana tragedy proved otherwise. "Her parents were standing right there by her and the police were right in front," Vogt says. "As a young child, she was excited. She darted out to get a piece of candy and that's all it took. She had no idea."
Some community members feel shorted by the change in policy. Because they love the parade so much, they feel it's their right to throw and catch candy according to tradition. However, it's important to keep the bigger picture in mind – and ensure the parade stays safe and fun for everyone. It's also helpful to remember that while the parade may feel like it belongs to each of us, it's actually provided by a small group of dedicated citizens who are liable – and concerned about – ensuring its safety.
"Keeping candy throwing wasn't worth putting kids in danger," says McDougall. "I think the ordinance is a great compromise!"
Keep the Good Times Rolling
Centralia's 4th of July Parade is a long-running tradition. According to Mayor Lee Coumbs, it started along with Summerfest in 1976. "It was the celebration of our country's 200th birthday," he says. "It was a vision of Rose Bowman, Wayne Manning, Bill Pauley and Joyce Barnes to have a family fun day starting with breakfast at Borst Park, music and games all day, a parade at 4:00 p.m., followed by a Destruction Derby and Fireworks at the Southwest Washington Fairgrounds."
There was already a tradition of summertime parades in the area, both with the former Southwest Washington Fair Parade and the historic Pioneer Days Parade, but Summerfest's 4th of July Parade soon took center stage, alternating between Centralia and Chehalis until approximately 2005, when Centralia became the prime Summerfest sponsor. They've hosted the parade ever since.
Bonnie Canaday Coumbs first got involved with the parade when she came to Centralia in 1986. "I have not missed a parade since," she says. "It has gotten bigger and better each year."
She rode in the parade with the Centralia City Council and as Mayor of Centralia. Her most memorable experience? The parade that started a special renovation. "The Centralia City Councilors wore hard hats and orange vests on a city street truck," she says, "and Mayor Tim Browning used a jackhammer to start the Streetscape downtown, which has been very successful for downtown merchants."
Vogt and the Windermere team made their own contribution to the parade's history with a memorial photograph. Vogt coordinated the endeavor by hiring a photographer and stowing a 12-foot ladder in a nearby business. "We stopped briefly at the end of Tower and the photographer ran out with the ladder, climbed up and snapped that moment in time," he recalls. "It was only 30 seconds but it was an orchestration to make that happen. That's a memory we'll have now for the next 100 years."
The enlarged version of that photo sits in the main lobby of Windermere to this day.
Calling All Volunteers
The 4th of July parade is always in need of more volunteers. But who has the time? Vogt has a thought on that. "In my experience, when you have all the work in your life that you have to do under control, then you see if you can add something. You find you adjust to that new thing, so you add another. That's what we've done, building the volunteer work we do into our routines. It's what we do every year – and then we take on more. It's the proverbial frog in the boiling water thing. Eventually, you realize you're doing a whole lot but it doesn't feel like it."
Volunteering for the 4th of July Parade is a fun way to connect with others, enjoy a strong sense of community, give back in a positive way and feel good. "For all of us, it's a sense of pride in your community," says Vogt. "You work really hard and you can do something that everybody gets to be part of – everybody. It's free and there's no RSVP, no invitation needed. You just show up and get a parade. It's a spectacle. And what an honor to be able to put on a parade for your town. It's fun and it's a privilege."
Sponsored