School is out and the sun has arrived! June, July and August offer the best weather for making memories. So check out these fun summer events in Lewis County. Every weekend brings new opportunities to make the most of your summer.

June
Fill up on egg salad sandwiches at Winlock Egg Days June 14 to 16. Celebrate Winlock's eggciting history with a parade, car shows and more.
Cool off at the amazing Shaw Aquatics Center. Opening for the season on June 15, the pool and accompanying splash pad located offer all-day fun. Find them both adjacent to Penny Playground.
Take a ride with the fourth annual Leap the Levee event on June 15 from 9:00 to 11:00 a.m. at the Chehalis-Centralia Airport. This 5K run/walk benefits the Discover! Children's Museum with prizes and awards for the top three runners in each class.
Tour De Farms – Music Festival & Farmers' Market will take place June 22 from 11:00 a.m. to 9:00 p.m. The music festival and farmer's market at historic Willapa Hills Farm features artisan cheese, art, lavender, and more – plus local beer and wine. Relax in the stunning scenery with tunes from Fern Hill and Whiskey Deaf.
Ride the Willapa on June 22 and 23 is perfect for families who enjoy bike riding. The beautiful scenery of the Chehalis River Valley is perfect for this leisurely ride.
For a magical experience, don't miss Fairyblossom 2019 Midsummer Games June 28 to 30 at gorgeous Red Hawk Avalon. Shop the Fairy Market, compete in Midsummer Games, enjoy drum circles, or wander the forest in a Dragon Quest – there's so much mystical fun to be had!
July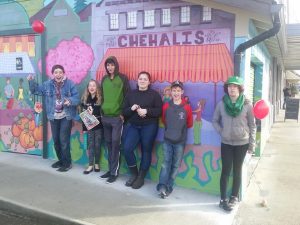 Head west for a fun-filled Independence Day at Pe Ell's Annual 4th of July celebration. Start the day with a parade at noon. Then check out vendors and activities for the whole family after. Be sure to stick around for the fantastic fireworks show at Pe Ell School in the evening.
July 11 to 14, find fun and free cheese sandwiches at Toledo's Cheese Days. This unique festival features a parade, golf tournament, garage sale, car show, and a frog jumping contest. It's sure to be a hoppin' good time!
Race a lawnmower or check out the Redneck Car Show at Napavine's Funtime Festival on July 20. The fun starts with a delicious community breakfast. Then enjoy the parade and celebrate the new Princess Napawinah.
For summer fun on the east side, go to the Packwood Summer Rod Run July 27 to 28 at Cowlitz River Lodge. Featuring hot rods, customs, classics and more, the car show won't disappoint. To top it all off, dance the night away at the Saturday night street dance.
Visit Sacred Spiral Sanctuary for Storytelling in the Harvest on July 27 from 1:00 to 10:00 p.m. Will Hornyak engages the audience while bringing traditional and original stories to life. Develop your storytelling skills with a workshop called "Well Told." Enjoy the sweet sounds of Betsy Tinney, a cello storyteller, and stay for the potluck.
August
The first weekend in August is Antique Fest in Historic Downtown Centralia. With tons of vendors and sidewalk sales, this event is one for the books. Hear live music, sample beer and wine, or get your treasure appraised with George Higby.
The 77th Annual Morton Loggers' Jubilee on August 8 to 11 is the granddaddy of logging shows. This event celebrates the history of the profession in Morton. The weekend is packed with a parade, logging shows, a street dance and much more.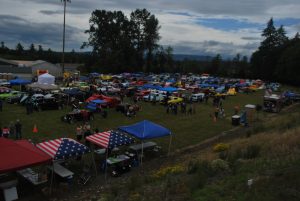 Step back in time to the Middle Ages with Autumn War – Barony of Blatha An Oir from August 7 until August 12 at Nix Ranch in Chehalis. With exciting tournaments, feasts, and various classes and workshops, it's sure to delight. Don't miss the great vendors with unusual items. This event is fun for all ages.
Celebrate the region's agricultural heritage – and future – August 13 to 18 at the Southwest Washington Fair. Ride the carnival rides, eat yummy fair food, and catch a show or exhibit. It's the event of the season.
August 23 to 25 is the 10th Annual Sarah Slape Coed Tournament & Raffle at Back Memorial Park. All proceeds go directly to the Sarah Slape Memorial Scholarship with the Adna Scholarship Foundation. Join in the fun or enter great raffles for a great cause.
The Garlic Festival on August 23 to 25 is a food lover's dream. Sample garlic flavored food of all kinds or stroll through a wide array of wonderful vendors. Fun kids' activities are provided by Shankz and the Boys and Girls Club, including an inflatable ball toss, a putting green and more.
Visit a Washington State Park for free on the National Park Service's birthday – August 25. Pack a picnic and enjoy Rainbow Falls, Lewis and Clark, or Ike Kinswa State Parks.
End summer with a bang during the Labor Day Rust or Shine Car Show and Music Festival on September 1 at the Veterans Memorial Museum. Hear great music and chow down on food from incredible local vendors. And don't forget to check out the rides!
Summer isn't endless – no matter how much we wish it was. So mark your calendars with these fantastic local events to make the most of it before it's gone.