A business is built on hard work and tenacity. Ownership requires a healthy dose of self-reliance. But success comes through the combined efforts of many, often working quietly behind the scenes.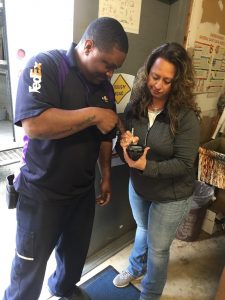 One essential but often overlooked role is that of delivery driver. These package professionals are in and out in a flash, but they're essential to most business operations.
FedEx driver Erskine Johnson Jr. is a shining example in his field. His customers look forward to his visits and appreciate his professionalism and engaging demeanor. He exudes a true love for his profession with his energetic smile and obvious passion for people.
This is especially impressive when one considers that his routes – throughout Lewis County, with a focus on Centralia businesses – often extend up to 10 hours a day.
As a combat military veteran, Erskine first drove professionally while on active duty. But this wasn't his first exposure; he actually began driving when he was only 12-years-old.
After retiring from the military in 2015, he searched for an occupation that would suit his friendly personality. "I prayed and asked for a job that I would enjoy and be able to serve people at the same time," shares Erskine. "I found an ad online that said they were hiring drivers."
With over 30 years of driving under his belt, he was a natural fit for the role. "I contacted them and was hired that same day," he says.
His favorite part of the job? Time spent with customers. "I enjoy interacting with the people in the businesses and we have grown to know each other," he says. "We know about each other's families and we build relationships. That's what I most enjoy."
One of his favorite stops is Alderson's Awards West Printwares. The hard-working delivery driver appreciates the hospitality that Tom Alderson and his staff show. Erskine says stopping at Alderson's means friendly faces and often an offer of something to eat or drink.
"The first time I met Tom it was like our spirits connected," says Erskine. "He is very welcoming and pretty savvy on the business side. He is a people person. Everyone around him seems to follow his lead. We have gotten to know each other on a first name basis. Even on Tom's days off, he is still there preparing for the next week. I always look forward to delivering to them."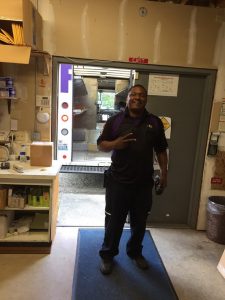 Tom is keenly aware of the importance of Erskine's work to his own success, and he values Erskine's emotional intelligence. "On their face, companies such as the U.S. Postal Service, United Parcel Service, and Federal Express are very impersonal," Tom says. "Yet, in actuality, the people who make our daily deliveries for these companies are anything but impersonal, as demonstrated by the warm and outgoing FedEx driver, Erskine Johnson. Erskine does an excellent job serving us and has gone out of his way to get deliveries to us early on those important occasions when we need it for same-day production.
"Not only does he do his job extremely well, he also displays a positive and friendly persona and finds time to get to know those he interacts with. Kim and Kaitlin, our customer service techs who interface with Erskine almost daily, look forward to the brief but enjoyable visits with him."
Tom is grateful for all the drivers who work hard to get packages to Alderson's. "Our company is truly blessed not only to have an outstanding FedEx driver, but David Gehrman – our postal carrier, who has been serving us the longest – goes well beyond the call of duty to provide us excellent service," Tom says. "We also are on Quinn Carpenter's UPS route and, once again, we are served by one of the best."
Why all the accolades? Small businesses like Alderson's rely very heavily on the ability to receive fast, efficient and cost-effective deliveries. "This helps us keep our inventory costs at a minimum while allowing us to offer our customers a wider variety of products at competitive prices than we could otherwise provide," Tom says. "With great people like Erskine, David and Quinn making those deliveries, we know our backs are covered and they will give us the extra effort whenever possible. The role these companies and the delivery drivers play in our local economy cannot be overstated."
Erskine enjoys working in Lewis County. "The people here are very nice," he says. "I'm thankful for the opportunity to serve Centralia and I appreciate how the people interact with me and enable me to get the job done each day."
Delivery drivers endure bad traffic and weather, protective pets, and parking hassles to keep businesses like Alderson's supplied and the economy moving forward. Trained professionals like Erskine take pride in making their deliveries safely and on time.
Take a moment to thank your delivery or mail person today; these unsung heroes tackle one of the economy's most demanding jobs.
Sponsored