Be prepared. This oft-cited motto is solid advice whether it's applied to an epic adventure or a picnic in the park. Even though much of what we prepare for will never materialize, it's wisest to be ready for anything. Unfortunately, many are unprepared for the one thing we all know will happen eventually: end of life arrangements.
Whether it's out of fear, optimism or denial, many resist thinking about their own and their family's funeral arrangements. But as with most things, a little preparation can provide immeasurable comfort later on. And paying for funeral costs up-front is the best gift you can give your loved ones.
Beginning the conversation is easy. Simply set up an appointment with Gary Graveline at Sticklin Funeral Home. He'll sit down with you and your loved ones and go through all the details. Many are surprised just how fun this process can be. "They get extremely creative," says Gary.
He recalls one man whose funeral was especially original. "The decedent was a big race car fan," Gary says. "So during the funeral, they drove his hearse around the race track with the race cars. His family and friends were in the seats watching. It was the greatest thing – the last great tribute they could do."
Gary has seen many creative memorials, including one 70's disco dance. Another woman's service was a massive party complete with good food and music. The band had played at her wedding and almost every anniversary since. This final bash was the perfect way to say goodbye. "It was an expression of both his love for his wife and a continuation of what made their connection important," Gary says. "We can do it last minute, but it doesn't turn out the same. The more you can put into something and the more you express your wishes, the better it turns out."
Many people think they don't care what happens after they die. They don't understand the importance of pre-planning. "I get that," Gary says, "but it's not about you. It's about your family; it's about their emotional transfer going forward. You never know at a death of a family member how you're going to react. Even if estranged, you may feel a need to express yourself. You don't necessarily need me, but you need to do something."
Important end of life questions to consider:
Would you prefer burial or cremation?
Where would you like to be laid to rest, or have your ashes scattered?
Would you like religious elements at your funeral and, if so, what kind?
What kind of flowers do you love?
What kind of casket or urn appeals to you?
What clothing would you like to wear?
What type of monument or plaque would you prefer?
What are your special interests, passions or hobbies and how would you like to share them with others at your service?
If you're a veteran, would you like military honors?
Are there other groups or clubs you'd like to participate?
What kind of music would you like at your service?
Who would you like to speak or perform?
Would you like financial gifts sent to a specific charity or organization?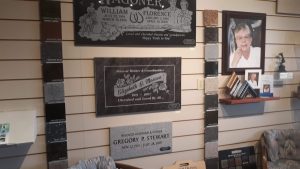 Financially, pre-planning is the wisest choice a person can make. After death, expenses must be immediately paid in full, but pre-planning allows you to make payments. The investment lasts forever and is fully honored at SCI funeral homes across the United States and Canada. The best part? You pay today's current rate, saving a large amount when you consider that funeral costs consistently increase over time. Ultimately, pre-planning is the kindest expression of love you can show your family at a time they would be most vulnerable.
"Funerals can be one of the largest expenses that a young couple can be faced with," says Gary. "But if you buy it today, you've locked today's cost in. I love when young people pre-plan because they've just secured their future and their loved ones' future."
Gary has seen the benefits many times. "I had a family where the daughter lived in Ireland. She had to come out and take care of things. If a person pre-planned, pre-paid and signed their own cremation documents, the balance of documents needing signatures can be handled by fax or email."
And when someone is recovering from a loss, sparing them the extra burden is a wonderful gift.
Pre-planning can extend far beyond an actual service. It can enrich the lives of those left behind long after you're gone. For example, if someone wishes to be cremated and have their ashes scattered on land, Gary recommends mixing wildflower seeds with the ashes. "A year from now, there will be beautiful wildflowers," he says, "and you'll be the only ones who know why they're there."
Sponsored