Two-year-old Darlene Yancey was roughhousing with her siblings on a bunk bed when it fell over with her on top. On the way down she hit her head on a dresser, giving her a huge goose egg. Strangely, this may have saved her life.
Her family took her to the Tucson Medical Center where doctors did a CAT scan. They found nothing, but her body was failing. An MRI scan was tried and an astrocytoma brain tumor was discovered in her left cerebellum.
Surgery, when she was three-years-old, removed a quarter of the tumor. Afterward, Darlene couldn't walk and her neck wouldn't hold up her head. Radiation helped but damaged her pituitary to the point where she needed growth hormones to reach a normal height.
"She was a make-a-wish kid," Patty said.
Darlene went to a preschool program with Patty as her caretaker. Here she learned to read and write. She attended special education classes in school and graduated with her class. Then she went on to the VISIONS program for those 18- to 21-years-old.
As she saw her older brother and sisters graduate and leave home, Darlene wanted to do the same. Her mother worked with her to reach that goal and she moved out when she turned 18.
At 36, Darlene returned home to have a bone spur in her hip removed. Every basic skill had to be relearned. Fortunately, there was support.
SPARC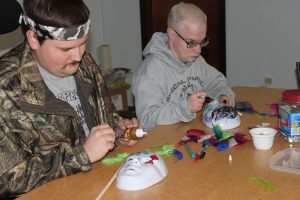 One of the programs that helps Darlene in her rehabilitation is called SPARC (Specialized Activities and Recreation in the Community). They coordinate with other organizations and facilities to provide activities for people with learning challenges and developmental disabilities. SPARC is supported by a grant from Lewis County Social Services and community donations. Activities are held in suite 202 above Yardbirds.
Mike and Paula Wind are the SPARC coordinators and Mike leads the group in arts and crafts, games and yoga. Both work for Reliable Enterprises helping those living with disabilities find meaningful work.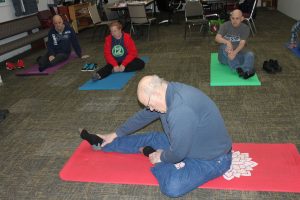 "It has grown from a need," Paula said of SPARC.
Paula's 32-year-old daughter, Geni, has Down's syndrome. She has always been encouraged to be independent and likes to read and do things with her friends. They love going to Bingo, dance nights, movies, and out-and-about tours with SPARC.
To join SPARC, fill out an application at www.reliableenterprises.org under "programs." Be prepared to pay small fees for some of the activities. Also take a look at their winter newsletter and calendar, which has activities for almost every day of the month.
"They have activities you wouldn't believe," Patty says.
The SPARC Center is open on Tuesdays from 9:00 a.m. to 12:00 p.m. for arts and crafts, games and exercise. Board games, Bingo and movies are featured on Fridays from 3:00 p.m. to 5:30 p.m.
JUMP
JUMP is an exercise program sponsored by Thorbeckes held every Monday from 11:00 a.m. to 12:00 p.m. and Thursday from 4:00 p.m. to 5:00 p.m. at Thorbeckes Chehalis facility. Learn about nutrition, work on balance and coordination, and keep in shape.
The discounted rate for JUMP students is $36.95. They need to fill out an application and be accepted as eligible. "We mostly work for the first half of class in the Circuit room (set up like a Curves) with weights, versa bands and/or games, improving our strength, balance and coordination," said JUMP Director Sue Hill. "We talk a lot about the importance of nutrition along with being active. Then, we go upstairs to use the treadmills, bikes, row machines, or walk the track."
Contact Sue Hill at 360-748-3744 ext. 107 or email her at jump@thorbeckes.com. 
Fairlane Bowling
On Wednesdays from 11:30 a.m. to 1:30 p.m., Fairlane Bowling at 1501 S. Gold Street in Centralia accommodates bowlers with disabilities. They also invite families and friends to attend. Sixteen lanes can handle around 40 bowlers. It's a popular event. Michelle Tomes coordinates the bowling with her son, Brent, who sometimes sits on the sideline waving and cheering the bowlers on. 
Michelle also coordinates Lewis County's Special Olympics and welcomes participants, volunteers and coaches. Call her at 360-506-3643 for more information.
Dancing
A dance is held from 7:00 p.m. to 9:00 p.m. on the third Saturday of the month at the Twin City Senior Center next to the fairgrounds. A theme is selected for each month. Wear green for this month's dance on March 16.
Out and About
Out and about trips are planned for the fourth Saturday of each month. On March 23 the bus is going to the Museum of Glass in Tacoma. The cost is $40. Be prepared to provide your own lunch. Register soon with SPARC at 360-748-6789.
People First
People First meetings are held from 2:00 p.m. to 4:00 p.m. at the SPARC Center on the third Saturday of the month. People First is a self-advocacy group that does service projects to help others with disabilities. Charlie Mitchell is the Lewis County president, regional representative and a member of the state board.
Darlene is the secretary of the Lewis County chapter. They're often required to travel around the state for board meetings. "I come home very satisfied," Patty said. "I love what I do."