Anne Hathaway said, "Weddings are important because they celebrate life and possibility." Formally celebrating your love is a crash course in planning that requires coordination and attention to detail. Fortunately, help is at hand. From extravagant to simple, there are several fantastic local companies who will set your heart aflutter. These professionals will help you have a stress-free and romantic wedding day.
The Event Planner
For a beautiful wedding with less stress, consider hiring an expert. "Planning your special day should be a fun and exciting experience," shares Jamie Holcomb, owner of JH Events & Marketing. "Hiring a professional planner helps you stay on budget, complete checklists with ease, and offers a wealth of information and resources specific to the wedding industry. Having a wedding planner by your side not only allows you to relax and enjoy all the special moments leading up to your special day, but allows you to focus on the most important details – getting married and living happily ever after.
Picture Perfect
Look back on this momentous day with beautiful photographs. Hiring a professional like Katia Hudson Photography is making an investment in memories, which will be cherished for generations to come. "Professional photographers do more than show up to a wedding with a fancy camera," says Katia. "They understand that this is one of the most important events in the bride and groom's life and that the wedding day itself unfolds as a story. They can anticipate the images that best capture the most important moments of the day – the most intimate, candid and spontaneous moments – and they know how to manage the posed family grouping photos as well."
Location, Location, Location
The venue sets the tone for your wedding more than anything else. Love nature? Host your wedding outside or at a local park. Looking for a rustic vibe? There are many party barn venues in the area offering country charm, like Weddings at Willapa Hills Farm. If you want a more refined feel, check out Jester's Auto Museum or Centralia Square Grand Ballroom. Venues book quickly for the summer months, so this should be the first thing couples secure.
Let Your Love Bloom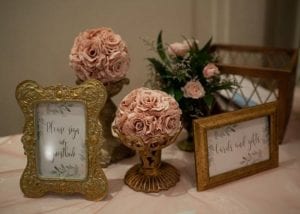 Flowers tell the story of a wedding and are an important detail in the décor and as an accent to the bridal party's attire. Local florists like Petals Design and Living Gifts and Benny's Florist create designs that fit the style and theme of each wedding.
Roses always say romance, but get creative with other types of flowers too. Look at options that will be in season during your big day. Spring brides could use tulips or lilies, while autumn brides may find hydrangeas or sunflowers suit their desired look.
Dish Up Something Great
Wedding guests remember the food most. Hiring a caterer can be expensive, but it's worth it. Let someone else deal with set-up, serving and clean-up, while you enjoy the day without all that work. Local experts like Jeremy's Farm to Table or The Crowded Kitchen Catering can design a menu that suits the bride and groom's taste buds and fits the wedding's theme. From elegant sit-down coursed meals to casual family-style buffet options, a company that has the experience to feed large crowds will ensure everyone is satisfied with delicious food before they get down on the dance floor.
The Big Show
For one-stop shopping, the annual Chehalis Wedding Show in February is a must-see for brides-to-be. This event focuses on local vendors.
Here you'll find everything from bridal gowns to makeup artists, florists to lodging, planners, photographers and more. Caterers and cake makers will be there with samples to taste. Many vendors offer event-only promotions and exciting giveaways.
"It's a great, affordable starting point for brides," says Tiffany Etherton of Live 95. "You can schedule things with vendors in one place and get it taken care of. It's become the destination for brides and families."
Sweet Romance
The centerpiece of any wedding is the cake. It can be big or small, fancy or simple, as long as it's delicious. Nowadays, there are plenty of fun alternatives as well. Consider a cupcake or donut tower. Dawn's Delectables and Cake n Cater are both local experts who bake beautiful and delicious cakes that will have your guests saying 'wow!'
From traditional to contemporary, a wedding is a way for couples to express their unique style. Today's weddings are more about the festivities and less about the formalities as couples incorporate their personal story. Select components that reflect who you are as a couple to create a magical day that you and your guests will love.