Venturing into the great outdoors is the perfect way to get active, spend more time with friends and loved ones, and get healthier and happier. But where to go? Here's a perfect destination for each month of the year. So get exploring and make it your best one yet!
This January, start the new year by snowshoeing or sledding at Paradise in Mount Rainier National Park. Remember to check road conditions and weather, though. Just because it's nice at home doesn't mean Paradise will be accessible or open.
In February, continue the snow adventures by heading to White Pass. With a tubing and sledding area, snowshoe trails and amazing skiing, it's hard to beat a snow day here.
Once March rolls in, hit the lowlands and rediscover Packwood Lake. Perfect for early season adventures, this 10-mile round trip hike is a great way to stretch out the legs after winter.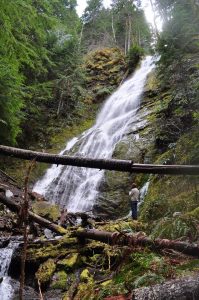 In April, when spring rains descend upon us, go waterfall watching at Covel Creek and Angel Falls. This family-friendly trail is just 3.4 miles round trip and is always a fun time.
In May, head north a bit and wander Northwest Trek to see animals and newborns frolicking in the spring sun. Families will love this outing, thanks to short trails, cute critters, a fun train ride and more!
In June go to the often overlooked Cathedral Falls along Goat Creek Trail. At 11 miles round trip and only 400 feet of elevation gain, this is a great kickoff to the hiking season.
In the heat of July, cool off by wandering Mount Rainier's Silver Falls and Ohanapecosh. Just 2.7 miles round trip, this kid-friendly hike will become a favorite destination.
There might not be a better way to spend August than backpacking around the Goat Rocks Wilderness. With jaw-dropping views of the Cascade Range and perfect solitude, you'll love this place!
Continue your panoramic views in September by hiking the short, steep trail to High Rock Lookout. With unrivaled views of Mount Rainier and the Nisqually River, this hike is for those who love exposure, views and fire lookouts.
As autumn kicks off in full force, your October adventure should be exploring the old growth at Lewis and Clark State Park. Its five miles of hiking trails are set against a green background highlighted by pops of bright fall colors.
This November, make sure you head to Little Mashel Falls. This is a waterfall lover's wonderland, and the five-mile roundtrip hike is kid- and dog-friendly, gaining just 500 feet of elevation!
Finally, in December, take one more trip back to Mount Rainier and explore the trails at Longmire. These are all perfect for snow, rain or sun. Ending your year in Rainier's amazing forest will perfectly cap off an amazing 12 months of exploring Lewis County.