This Christmas was a little merrier for some Lewis County families, thanks to the combined efforts of Twin Transit, KELA KMNT Radio and Grocery Outlet.
On December 14, Twin Transit staff rolled up to Grocery Outlet with a very special – very full – bus. Its contents? Food donations for the Lewis County Food Bank Coalition, serving eight food banks across Lewis County.
Donations came from Twin Transit staff and their free fare weekend event, which granted riders free passage with the donation of a non-perishable food item. The event was a great success, yielding several hundred items in only a few days. This year's efforts built on Twin Transit's longstanding tradition of hosting an annual company-wide food drive.
Twin Transit General Manager Derrick Wojcik-Damers credits their success to wonderful community partners like Grocery Outlet and KELA KMNT. And he's already excited for next year. "It's great to give back to the community we serve," he says.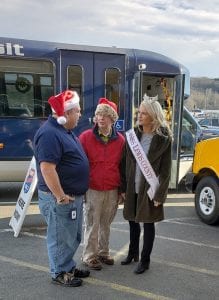 As Twin Transit made their big delivery, KELA KNMT spread the word with a live broadcast outside Grocery Outlet. Ryan Trotter and Kevin "The Brit" were on hand to build excitement and help out. The location made it easy for patrons to drop off additional donations of food or toys while finishing their own shopping. Miss Lewis County, Marisa Hall, was also on hand to promote the event. And all donations stay local.
Community First Auto Center donated the use of a box truck to collect and deliver donations to organizations for distribution to local families and children. Toys were collected at Grocery Outlet and individual business toy drives, and donated to the Forgotten Children's Fund of Lewis County. This organization helps families in need with holiday gifts and food, often providing assistance for those who might be unable to find help elsewhere.
The radio station has held a holiday toy and food drive for years. Their goal? To make holiday wishes come true for local kids and families. This year, the partnership yielded carts full of toys and even a few bikes, all sure to bring extra Christmas magic to local children.
Twin Transit loves spreading holiday cheer. They also offered free Centralia Christmas Lights Tours, taking riders on a journey of the best lights in town. With all their experience navigating local streets, they know where to find them. They even decorated the bus.
"It's a nice route," says Wojcik-Damers. "It's another exciting opportunity to give back to the community."
The special holiday route also included the fabulous Christmas lights display at Borst Park. Sponsored by the City of Centralia, the yearly attraction is a Lewis County holiday tradition, delighting both young and old.
Sponsored