What happens when you trade in a used car on your new vehicle purchase? You drop it off and the car dealership spiffs it up, slaps a price sticker on it and voila! It's ready for the next guy, right? Nope. At least not at Awesome Ford in Chehalis. There's actually a lot that goes into the process from the moment the dealership accepts a trade-in vehicle to the point that they place it on the lot for resale – if they do at all. And it all starts with a walk.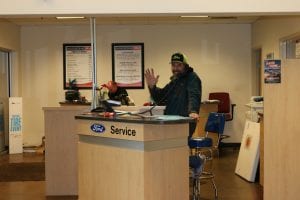 Each morning, Ryan Hughes, general sales manager, and Dustin Alexander, A&R coordinator/assistant service advisor, take a walk around the used vehicles that came in the previous day. Most will end up being resold but some go to auction where they're sold offsite.
"When a customer trades a car in, we determine if it will sell," Hughes said, explaining that the first consideration includes any known mechanical problems it has, in addition to scratches, dents, tire condition and so on.
The first step is tagging the vehicle and placing it into the inventory system so all staff know where it's located on the property. It's then handed off to Service Technician Leonard Nederlander who goes over an extensive mechanical inspection list to determine any needed repairs.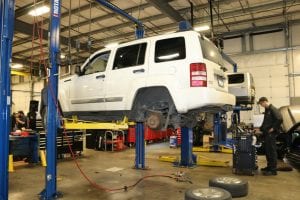 Nederlander then returns to Hughes and the two go over the list to determine if they'll resell it or send it to auction. If they decide to sell the vehicle on the used lot, parts department staff use the inspection list to place orders for needed parts. Hughes said they try to go with factory parts whenever possible.
Once the parts arrive, any required mechanical work is completed. It might seem like that's all it takes, but there's still more to be done. Once repairs are made, the vehicle is taken to the detail department where staff clean it inside and out. Their goal is to make it look and smell new, or as nearly new, as possible.
When the vehicle is finally placed on the lot for viewing, the price is set on the front windshield with the Car Facts report inside. From that point on, the vehicle is under the responsibility of Jordan Hull, used car manager. The final step is getting photographs of it online.
"Our goal is a three-day turnaround," Hughes said of the whole process. "People want a quality car. We treat them all the same, even vehicles that are at the lower end of value. They all go through the same process."
Hughes has been in the auto industry for 18 years and he's seen a lot of changes during that time, including public expectations. When he started, he recalls the re-sale process being quite different. "You'd made sure the brakes would stop the vehicle, you'd wash it, vacuum it out and put it on the lot," he says. "Now days, it's not like that." Not even close.
After Resale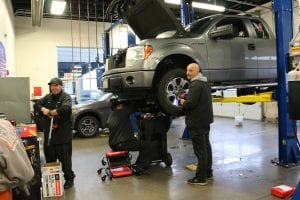 Even with all the inspections, something mechanical can still go wrong at a later point, Hughes said, adding, "a vehicle is a machine that's built by humans."
For this reason, they always encourage people to buy extended warranties whenever possible. "Then if something goes wrong later, it's nice to invite the buyers back to the shop and say, 'Hey, you're covered,'" Hughes said.
Customer service is important to Hughes and the whole Awesome Ford team. They're ready to help from early browsing through purchase. Rather than staying behind closed doors like most sales managers, Hughes sits right at the front counter.
Awesome Ford is one of four dealerships owned by I-5 Cars, along with I-5 Toyota, Volkswagen of Olympia and I-5 Chrysler Jeep Dodge Ram Fiat.
Stop in and say hello to the Awesome Ford team during their regular business hours: Monday-Friday, 8:30 a.m. – 7:00 p.m., and Saturday and Sunday, 10:00 a.m. – 6:00 p.m.
Sponsored