For nearly a century, Mt. Capra has produced goat milk products here in Lewis County. Originally owned by Melvin Eggers as Briar Hills Dairy, the farm produced cheese and whey powder. Melvin and his son, Peter, owned Mt. Capra until the 1980s when dairy farmer Frank Stout took over. He would sell his products at Pike Place Market in Seattle. Eventually Mt. Capra ended cheese production to focus on the increasing demand for whole-food nutritional products.
In 2003, Frank's son Joe enrolled at Washington State University to complete a Bachelor of Science degree in Food Science and Human Nutrition. He then pursued his Master of Science degree in Clinical Human Nutrition.
In 2012, Frank enrolled at Bastyr University to pursue a medical degree, leaving the farm and processing facility under Joe's management.
Joe Stout now lives on the farm with his wife, Elizabeth, and their children. "I think we are the largest goat milk producer in Washington and probably Oregon too," says Joe. "Our business exists because people really thrive on goat milk. Goat milk is very allergen friendly." Alternatives such as nut milk do not offer the dense nutrients that dairy milk has.
At Stout Family Farm, just outside Centralia, approximately five-hundred goats are milked twice a day, twenty-six at a time. The goats live well here. They graze on pasture and no antibiotics or hormones are used. They also enjoy organic apple cider vinegar.
Barley fodder is grown hydroponically to feed the goats in the rainy season when the fields are wet. Barley is the one grain that can still be found without GMOs. One ton of barley is grown in a week's time, based only on the energy in the seed. It is easily digestible for the animals and contains three times the nutrients.
"It's a game changer for us, to bring the pasture to the animals," says Joe, explaining that the first time the goats were fed the fodder, they looked at it cautiously until one tried some. Then they all quickly followed. Soon there was fodder flying everywhere in a feeding frenzy.
As you could imagine with mischievous goats, there are adventures and mishaps. Joe recalls one fair season when he came home to an empty barn. For hours into the night, he rode his four-wheeler around the area looking for his lost flock. They could not be found. He even called the sheriff to see if anyone had reported a herd of goats decimating an orchard somewhere. He tried using his neighbor's night vision binoculars, but still no luck. The next morning, a neighbor called and said, "I found your goats; they're eating my blackberry bushes. Can you leave them all week?"
Family is everything to Joe and is always in his business plans. "I plan on leaving this place better than we found it and to add to the land; a good farm should become more fruitful," says Joe of his farm-owning philosophy. "It is multi-generational. I want this business around beyond the generations we can see. We look at not only what we are doing now, but what the next ninety years will look like, and not just profits and product margins."
From the farm, Joe trucks the goat milk to the processing facility in Chehalis. The facility was built in 1928 and is very efficient. The system is a combination of old trusted methods combined with new technology. A variety of products are created from the shelf-stable goat milk powder. During peak production, the facility can produce up to 15,000 pounds of the nutrient-rich powder.
First the milk is pumped into large steam kettles. An evaporator is used to extract some of the water out of the milk using Refractance Window Technology. After evaporation, a drying machine is used using the same technology. Drying time is ten to twenty minutes using this method. The process is done without high heat, so the nutrients aren't degraded.
Some of the products include whey protein, ghee, powdered goat milk, colostrum, double bonded protein, fermented goat milk protein, mineral whey, electrolyte protein, green superfood powder and even a sports recovery powder. The Seattle Seahawks' smoothies are made using Mt. Capra powders, specifically formulated for each player.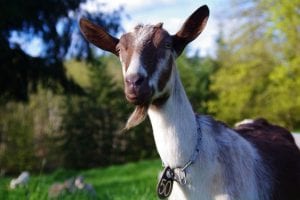 Mt. Capra also makes ingredients for infant goat milk formula, probiotic supplements, enzyme supplements, bone and joint supplements, cleanses and goat milk soap. Mt. Capra even sells the apple cider vinegar fed to the goats.
With age-old principles combined with modern technology, Mt. Capra has preserved the values of the original owners nearly a century ago. The father and son duo work hard to provide wholesome food products from well-tended animals. Together they care for their customers, goats, employees and land.
Mt. Capra
448 N. Market Blvd.
Chehalis
360-748-4224
info@mtcapra.com