The year 2018 will be a significant time of reflection for Washington Orthopaedic Center, not on the history of the organization, but the remembrance of the lives and legacy of two founding fathers, Dr. Larry Hull and Dr. Carl Birchard, who both passed away this year.
Washington Orthopaedic Center, originally known as Washington Orthopaedic & Fracture Clinic, was founded in the summer of 1973 by Dr. Larry Hull to provide quality orthopedic care to the underserved Community of Lewis County. He was joined later that year by his college roommate Dr. George Harper, and together they built the practice with a foundation focused on Christian principles.
In 1978, Dr. Carl Birchard left the Panama Canal Zone where he had been practicing, and joined the growing orthopedic practice. These Founding Fathers of Washington Orthopaedic Center not only brought orthopedic care to Lewis County, but also laid the foundation for countless acts of humanitarianism for decades to come.
In 1989, as the clinic continued to grow, a new facility was constructed in its current location at 1900 Cooks Hill Road in Centralia, offering not only a clinic, but diagnostic imaging and physical therapy. In the year following, Washington Orthopaedic Center celebrated the addition of yet another surgeon, Dr. Keith Anderson. In 1994, the group achieved another milestone with the addition of an Ambulatory Surgery Center making Washington Orthopaedic Center one of only 14 of its kind in the United States with such services all under the same roof.
Over the decades the doctors at Washington Orthopaedic Center served in countless medical mission trips to impoverished areas such as Nicaragua, Guatemala, Trinidad, Tobago, El Salvador, Papua New Guinea, Africa, India, Dominican Republic, Panama, Costa Rica and Mexico, with Dr. Hull and Birchard often spearheading the missions. They turned to their faith which often called them both to improve the lives of the world's poorest and crippled where they might not otherwise have had care. Both men were active in the Centralia Church of the Nazarene.
Many of the employees at Washington Orthopaedic Center describe their experience there more like being with family than performing a job. "When I started working for Dr. Hull and Dr. Birchard at their new surgery center, I had no idea what I was in for," shares former employee Dondi Sahlinger. "I was a new RN looking for a job that allowed me more time with my family, but what I received in return was much more. I was part of a team—one coached by two men who led by example and whose actions matched their words. It was a joy to go to work in the environment they created. I will always be thankful for the opportunities they gave me."
These men were admired by their colleagues. "When Dr. Hull was in the office, everyone knew it," says Wanda Garza, "not only was he friendly and outgoing, he truly cared about each and every one of his patients and employees. He was truly an inspirational, selfless and amazing man."
His genuine enthusiasm is what many remember. "Larry [Dr. Hull] identified himself (correctly) as a 'cheerleader,'" says Dr. Keith Anderson. "He was always encouraging and upbeat. One of his more distinctive sayings was 'hilarious' – pronounced 'high-larious' when something was funny."
Dr. Hull and his wife Aarlie became involved with and eventually owned the Maden Coffee and Tea Plantation in Papua New Guinea. There they built a medical clinic and birthing center. They also developed a women's literacy program and spearheaded a clean water project. Na Wokabaut s the name of the non-profit organization the couple established to improve the lives of the people in Papua New Guinea. Na Wokabaut is pidgin meaning "now get up and walk."
In 2010 Dr. Hull received the American Academy of Orthopedic Surgeons Humanitarian Award for his three decades of medical mission work. This is an honor that very few have received and continues to show his commitment and dedication to the greater good.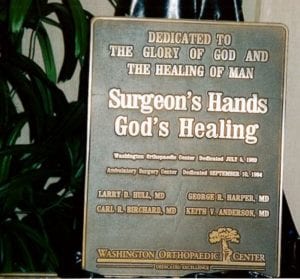 "Carl [Dr. Birchard] was always a MacGyver; he could make anything work and this is something that he passed on to his son, Keith [also known as Dr. Birchard] who is a surgeon at Washington Orthopaedic Center today. A can-do attitude and strong work ethic is certainly a trait they shared," says RN Tammy Goodeill.
"Dr. Carl Birchard is remembered as a man of few words, and more of a doer than a talker. He was very talented and to the point," shares Dr. Keith Anderson.
Medicine was part of the Dr. Carl Birchard family. His wife Dee worked as his nurse at WOC until their retirement in 2004, and when his son Dr. Keith Birchard joined the practice, he worked with him on spinal surgeries. "Dr. Carl Birchard walked the 'WOC' walk so to speak, as he consistently lived up to the Washington Orthopaedic Center's mission statement, always rendering compassionate orthopedic care while continuing the healing, caring ministry of Jesus Christ," said Wanda Garza, CPC. "Dr. Birchard was loved by his patients and all of us who worked with him here at WOC. I will remember him as a very generous man, selfless while caring for all patients, even those who couldn't afford care; and for being so humble and gracious."
Both Drs. Hull and Birchard were very active in many civic, professional and philanthropic organizations during their lives. They were both instrumental in the Surgical Implant Generation Network (SIGN), which provides surgeons in developing nations with the training and instruments they need to improve the quality of orthopedic care provided. They were involved in the leadership at their church and Dr. Birchard served as a Scoutmaster of Boy Scout Troop 373 in Chehalis.
Dr. Hull was once quoted on a mission trip as saying, "It reminds us once again that we dress the wounds, but God heals them. When surgery happens on kitchen tables and in bush clinics where a multitude of things can go wrong but don't, it makes you exceedingly grateful that we do the dressing and God does the healing." That same mantra was part of the dedication of the Ambulatory Surgery Center in 1994, with the plaque, "Surgeon's Hands God's Healing" which still hangs proudly on the wall in Washington Orthopaedic Center.
These men gave selflessly in life. They helped countless Lewis County residents as well as many around the globe. The world is truly a better place because of them; and their legacy lives on in the hearts of those who received their care, and of those who knew and worked with them.
Washington Orthopaedic Center
1900 Cooks Hill Road
Centralia, WA 98531
360-736-2889