Where were you in August of 1982? Planning to go to the Southwest Washington Fair and parade? Were you planning to go see the Pepsi display and challenge in the Yard Birds parking lot? Or riding the miniature replica race cars and meeting racing star Don "The Snake" Prudhomme? Were you there?
Brian Charneski, President of L&E Bottling Company, remembers it quite well. The business was still located in Chehalis at the time. "I was there in 1982 and I watched it get put together," he says as he looks off into a fond memory.
As a 20-year-old, it was quite exciting. Several small replica race cars were ordered for the event, some modeled after Prudhomme's car and some after NASCAR champion Darryl Waltrip's Mountain Dew stock car. A race track of sorts was set up in the north parking lot at Yard Birds, built out of hay bales and pallets of Pepsi cans. It was very exciting. "It was the largest Pepsi display that we know of," brags Charneski with a smile. An estimated 1.2 million cans of pop made up the display.
Charneski says any kid could ride the cars on the make-shift track. He doesn't recall a minimum age to ride, just that the child had to fit in the car. Each child got to take one lap. One can imagine excited kids going again and again, over and over, while their parents patiently waited. But since the ride was free, there wasn't much complaining.
A small cafe was set up to serve hot dogs and a giant 20-foot-tall inflatable Pepsi can marked the location of the Pepsi Challenge. Do you remember the Pepsi Challenge? It was quite the deal back in the day. All franchises participated and L&E Bottling teams went from fair to fair, in addition to other locations, and set up a table.
It was a blind taste test. On top of the table would be two white cups, one containing Pepsi and one containing Coca-Cola. You didn't get to see which was poured in which cup. Then you tasted each one and tried to guess which was the Coke and which was the Pepsi. Many people were surprised when they thought they could tell their favorite but turned out to be wrong. The majority of people chose Pepsi.
Prior to going to Yard Birds, a group of kids were given the privilege of driving the cars in the parade that used to occur during the fair. "The parade was part of the whole fair thing and went from Chehalis down into Centralia," reminisces Charneski.
When Don "The Snake" Prudhomme arrived at Yard Birds, the excitement really began. "People came from all over the state and stood in line for his autograph and pictures. The line went clear around the [Yard Birds] store. He was a big deal," Charneski remembers with amazement.
Prudhomme won multiple NHRA (National Hot Rod Association) races. He even had a Hot Wheels car set named after him in the 1970s, propelling him into a household name for thousands of children. Even though he retired in 2010, just this past May Prudhomme participated in the Yokohama NORRA Mexican 1000 and finished in 10th place.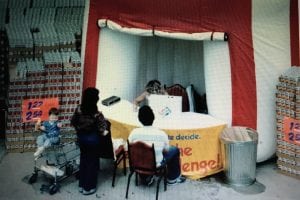 The "race track" stayed up for about a month, entertaining hundreds of kids who were thrilled to take the ride. "Fortunately, it didn't rain," laughs Charneski. He also reports that they had very little product that had to be taken back due to dents or fading from the sun.
Pictures from the display were taken by the late Dick Kitchel, who was the sales manager at the time and the person in charge of the event. Photos show the 1982 Little Miss Friendly and her court driving in the parade. Images document the big inflatable Pepsi can looking surreal within walls of Pepsi cans, happy kids in little cars and, of course, Purdhomme himself. Charneski was pleased and grateful to see the photos. "They brought back a lot of fun memories, reflecting on what life was like in the Twin Cities back then," he says. "Everything was integrated; the fair, Yard Birds, Centralia and Chehalis. It was great."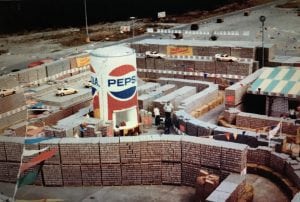 Did you ride the replica race cars at the little Pepsi Challenge Race Track? If so, tell us your story! We'd love to see pictures, hear your stories and share more memories from that fun and simple time.
L&E Bottling
3200 Mottman Rd. SW
Tumwater WA 98512
360-357-3812