Sometimes our children take us in a direction we never imagined we would go. Victoria Romero's son, Luis, took her on a journey through the world of Autism. That journey led her to help other families who are also looking for information and resources within Lewis County.

"Luis is really what inspired me to be a part of this," Romero says. "People didn't understand him. When we would go out in public, they would make comments."
Romero's son was diagnosed with Autism when he was two-years-old, after being in early intervention services through In-Tot Birth to Three early intervention program where staff started noticing what are called "red flags" in his development and behavior. "I had gone to all these classes yet didn't know what to look for," says Romero.
She attended Centralia College's Community Presentations, a monthly joint venture between Centralia College and Reliable Enterprise's Parent to Parent program to educate the community about various special needs. She also took classes and says that in every class she focused her homework on Autism awareness so she could learn as well as spread the information to others. All of this was on her own time. When a position came open with the Lewis County Autism Coalition as "The Link" coordinator, she was a natural fit.
Romero explains that "The Link" is a resource center for autism and behavioral health. "When someone calls, whether they already have a diagnosis or are just in need, I help them through that journey. I'm a navigator."
She works with SMART (School Medical Assessment Review Team). Each month they get together to figure out how to help specific families. Northwest Pediatrics houses the program and staffs a coordinator. Experts from Mary Bridge come down from Tacoma once a month so that local families can get a diagnosis without having to travel up north or be stuck on a huge waiting list.
A diagnosis isn't needed in order for Romero to help families. "I just make sure they get resources and are connected," she says. "There are so many different resources that people just don't know about."
Even if someone just has a question – like how to get a child on the Autism spectrum to brush their teeth – Romero can help. If a child qualifies for Social Security Disability, she can help the family navigate the system and help with school Individual Education Plans.
"If somebody needs something, I try to find out if that resource exists already and, if not, I try to create it," Romero says. "A family was asking for a sensory-friendly Santa and we didn't have anything already set up like that, but I didn't want to turn them away. My dad had a costume so we had my brother dress up as Santa and did a private "meet n' greet" and photo session. It was so sweet. The child with Autism had siblings and they were thrilled as well. That's how I came up with the ideas of things like the sensory friendly egg hunt and the Halloween costume drive."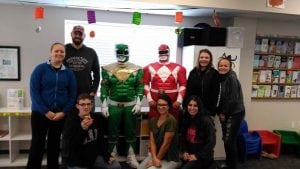 Romero doesn't just educate families, but the public as well. A company can request Romero to provide training on Autism. She gives teachers tools and free information. "I want schools to know they can use me, I'm a free resource to them," she explains. "For instance, this year we will be holding our 8th Annual Southwest Washington Autism Conference on October 26 at Centralia College. We always have amazing speakers and topics for parents, people on the spectrum, educators and the community."
Romero has many things planned for the summer. The Autism Coalition is sponsoring programs at the library as well as a SPARC (Specialized Activities and Recreation in the Community) Sports Camp. She has organized a group of parents and a private Facebook page to help people support each other. Here, they look at various community events and decide which ones they'll go to as a group, so they don't have to worry about being judged, a common problem for families with children on the Autism spectrum.
They'll be going to the Shaw Aquatic Center, activities at local libraries and having a potluck. They'll also work on the painted rocks that are so popular. These will help spread autism awareness and the group is calling them "Autism Rocks" as a play off of "Lewis County Rocks." They'll have contact information for Romero and "The Link" on them.
"Sometimes I just make sure I'm there emotionally to support families, making sure they're connected to people locally, and that they know about upcoming training," Romero says. "Basically, I am that central hub for all the information. I'm just helping to spread Autism awareness."
Romero can be reached at 360-508-4287 or thelinkcoordinator@outlook.com.