Senior Night in any high school sport is usually an emotional event with the occasional tear or two being shed along the way. It's easy to understand why this occurs. It's the end of a journey for the players involved. It's the last time they will step on the court or onto the field with the individuals they've spent the last several years competing with.

Meeghan Peters, Ashlyn Rustan and Emily Tyner, however, found a way to avoid saying goodbye to each other.
All three 2018 Toledo High School graduates will continue being teammates this fall at Centralia College, playing for the Blazers' women's soccer team.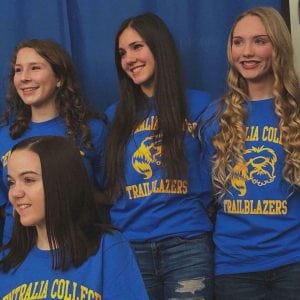 "Being able to continue to play [your] favorite sport after high school and into college is rare," Tyner said, "but the fact that I get to do so with my two friends is quite a blessing."
The three join a Centralia program that enters its third year of existence. Head coach Horst Malunat guided the Blazers to a 5-10-2 overall record in year two, including a solid 5-7-2 mark in the West Region, which is no small feat considering the division also features 2017 Northwest Athletic Conference champion Highline and Tacoma, a semifinalist at last year's NWAC tournament.
No definite position for any of the players has yet been determined, but all three believe they will end up somewhere on the defensive side of the ball with Peters having the potential to play goalkeeper, a position she played in high school.
And while none of them currently know where they'll be penciled in on the roster, each knows full well where they're headed in regards to academics at Centralia College; all three know the field of study they want to pursue.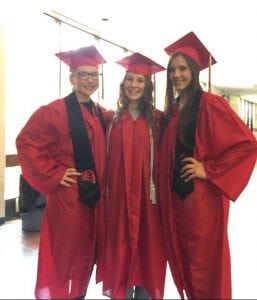 Tyner is looking to further her career into the field of Medical Science. Peters plans on going into the nursing field and will start her CNA classes in the fall, while Rustan will go into the Electronics Robotics Automation (ERA) workforce program at the school.
"I was previously a Running Start student so I have attended Centralia College in the past," Tyner said. "And being able to finally play for the college and having Horst as a coach seemed like an exciting opportunity."
The decision to continue playing together was made last spring, but thoughts of becoming a Blazer had been on Peters' radar for quite some time.
She was the first of the trio to draw the attention of the Centralia College coaching staff, recruited by the Blazers since her sophomore season.
At that time, Tyner wasn't even playing the sport, electing to go against her two friends' constant wishes to turn out for soccer during her first two years of high school.
After plenty of friendly needling and two years of being asked to play, Tyner finally conceded and joined the squad her junior year.
"There are countless memories I could recall [from high school soccer] but I think one that sticks out the most is the first practice we all had together," Rustan said. "It was a summer practice and Meeghan and I had spent the last two years trying to convince Emily to join soccer. She showed up and I lent her my spare pair of cleats and after that she was a part of our soccer family."
Tyner immediately fell in love with the sport and it just didn't seem right to break the group up after just two years together. Now they get two more with the Blazers.
"We are always trying to improve each other and always have a good laugh about something," Rustan said. "What impresses me most about Emily is how far she's come in such a short amount of time. She's a true athlete. Meeghan always impresses me with how hard working she is. She will put the team before herself and that's something that is totally admirable."
One large benefit the Blazers receive with the three incoming freshmen is a familiarity that usually takes time to develop. The program gets two years' worth of that bond the moment they step on campus.
"Meeghan's communication skills are crazy good and I've never met anyone who is as obsessed with soccer as Ashlyn," Tyner said. "I feel comfortable playing with these two because we all know our positions and how we play."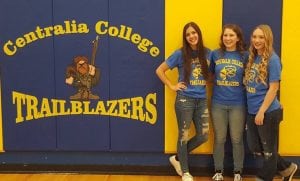 The group will now trade in the red and black of the Indians for the blue and gold of the Blazers.
"Playing with my teammates is actually a dream come true because they're both my best friends since we started high school. They both push me to be a better person on and off the field," Peters said. "I get to spend two more years playing soccer with two people that know me best and know what I am thinking and why I made that decision on the field."