Emerald green ferns frame the path, while velvety moss hangs from branches above your head. It's a bit dark, with old growth trees towering to the sky. You crane your neck, but can't see the tops with sunlight streaming down. It's cool and quiet, so quiet you can't believe that moments ago, you were on the hot pavement of a campground parking lot. That's Lewis & Clark State Park; five miles of Middle-Earth beauty right here in Lewis County.
Wind through the forest and chose a path, it just may remind you of Robert Frost's The Road Not Taken.
"Two roads diverged in a yellow wood,
And sorry I could not travel both
And be one traveler, long I stood
And looked down one as far as I could
To where it bent in the undergrowth"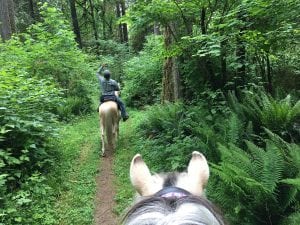 If you go to the left, you can follow his poem, verse by verse.
"Then took the other, as just as fair,
And having perhaps the better claim,
Because it was grassy and wanted wear;"
The left lane has a carpet of clover and grass, dappled with daisies in early summer. It's wide enough to ride side-by-side and level enough to canter down. Canopied by willowy vine maples, interspersed with tall Douglas firs, you will swear you are inside Tolkien's great work, or traveling the road to Camelot. There is an inner and outer loop that intersect at different points, allowing you to take a different ride each time you visit.
This fairy land is waiting to be discovered. Be sure to bring your camera and listen closely, you may even hear the elves singing in the woods.
Find trip information on the Washington State Park website.