Since opening a year ago, Tipsy Piano Bar has been a popular spot in downtown Olympia for nightlife, specialty cocktails, beer and – of course – music. I love hanging out there. The warm, rich atmosphere feels classy and fun. And the servers share the same vibe.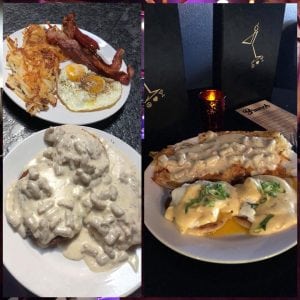 Now they're expanding their hours and bringing in the daytime crowd with both brunch and lunch offerings. "We're definitely excited to start brunch," says co-owner Jonas Rodriguez. "We wanted to do it from the beginning."
Brunch will be served from 11:00 a.m. to 2:00 p.m. on weekends. For something southern inspired, go for the shrimp and grits, served either fried or blackened with peppered grits. Or for a more locally inspired dish, the cedar plank salmon, served with poached egg and breakfast potatoes, is chef and kitchen manager Sean's favorite. The country fried steak and the biscuits and gravy are two well-liked and well-portioned plates on the new menu, which includes other classic style brunch foods. And the servers can help you customize your order to your liking.
Brunch is even better when accompanied by a Tipsy cocktail. "The Mary" is Tipsy's bloody keys cocktail with a twist; four prawns, bacon, pickles, celery, green beans and asparagus. Or try the delightfully sip-able Tipsy mimosa: Orange juice, Prosecco, hibiscus and blood orange liqueur.
Tipsy also offers a weekday lunch menu that's in tune with their comfort-food repertoire. Try one of several wraps and sandwiches, or one of their four salad options. The fish and chips are a staff favorite. The cod is sourced daily from Olympia Seafood Company and all the bread comes from Wagner's Bakery.
"We definitely try to keep it as local as possible; that way everything is fresh," says Chandra, who works as a server at Tipsy. "And we're a locally owned business so we want to be supportive of other locally owned establishments in town."
Make sure to save room after lunch for some deliciously crispy beignets, made in-house from scratch. Tipsy is open until 12:00 a.m. Tuesday through Saturday, and until 10:00 p.m. Sundays, with live performances most evenings. Their regular menu is available until 9:00 p.m. and includes a range of American culinary notes, like the Cajun pasta bowl, barbecue fried chicken or their New Mexico hatch green chile burger.
If happy hour is more your tempo, stop by for an after-work reprieve Tuesday through Sunday from 2:00 p.m. to 6:00 p.m. for specials on drinks and food. The Mrs. Collins, made with gin, honeybush liqueur and an orange slice, is a super refreshing and light drink perfect for a warm day. And the honeybush liqueur is one of many flavors sourced from Salish Sea Organic Liquors, a local company based in Lacey.
Top it off with Mama Becky's hush puppies, prepared with jalapenos. The recipe comes from the mother of Tipsy's first chef. In fact, many of the recipes at Tipsy are home recipes from people close to the bar. Plus, each weekly cocktail special is created specially by Tipsy bartenders, who take turns composing new concoctions.
Tipsy will soon celebrate their one year anniversary. Originally from New Mexico, owners Jonas and Jenna Rodriguez first opened Tipsy on August 10, 2017, along with co-owners Jerry and Malissa Antonelli. Jerry and Malissa were born and raised in the Pacific Northwest. Not only are they all business partners, but great friends as well.
Since then, Tipsy has been a fun and positive addition to the Olympia community. So cheers to more years of great tastes and tunes at Tipsy Piano Bar.
Follow Tipsy Piano Bar on Instagram and Facebook to learn about their upcoming one year anniversary event.
Tipsy Piano Bar
514 Capitol Way, Olympia
Tuesdays thru Saturdays 10:00 a.m. to close, which varies
Sundays 11:00 a.m. to 10:00 p.m.
Sponsored