Summer is an exciting and fun-filled time of year in the Pacific Northwest. When the rain finally stops (hopefully in July), it's time to get outside and enjoy the nice weather while it's here. In between road trips and vacations, here are some awesome outdoor events in the area. Visit them all to get as much fun in the sun as possible.
Toledo Cheese Days is an annual summer celebration that includes a parade, classic car and motorcycle show, pancake breakfast, kid's carnival, auctions and raffles, arts and crafts, sports tournaments and all things cheese. And who doesn't love cheese? The event will take place on July 12 to 15 and this year's theme is Legend of Bigfoot.
Napavine Funtime Festival on July 20 through 22 has plenty of fun for kids of all ages. The FFA is sponsoring a petting zoo and there will be a soap box derby race. Kids will love the pony rides and blow up toys and adults will enjoy the various vendors. The annual parade through town is always fun. And don't miss the Redneck Car Show! This unique event is fun for the whole family. These are just a few highlights of all the fun going on in Napavine on this exciting weekend.
The Chehalis Mudder on July 28 is all about getting dirty. With a rugged obstacle course, this event is fun for everyone. After the race, stick around to win prizes, eat some delicious food and listen to music. This event is for ages five and up and benefits the Chehalis Little League.
Mossyrock Blueberry Festival is August 3 to 5. There's music every day and – of course – blueberries. The highlight of the weekend is the parade at 11:00 a.m. on Saturday followed by the ever popular pie eating contest at 1:00 p.m. Other activities include a dog show, pancake breakfast, quilt show and a trail race.
Winlock Pickersfest not only includes an amazing lineup of musicians, you can learn too with instructional workshops and open mics. Camping, food and organized kids activities round out this weekend. It will be a blast. Held August 3 to 5 at Winolequa Park, Pickersfest is not to be missed.
The 76th Annual Morton Loggers Jubilee is all about the logging industry. It features a logging show with fierce tree wranglers showcasing their skills. Held August 9 to 12, the weekend includes unique activities such as bed and lawnmower races, a flea market, 10K fun run, grand parade and much more. This event is one of the biggest in the county with up to ten-thousand visitors.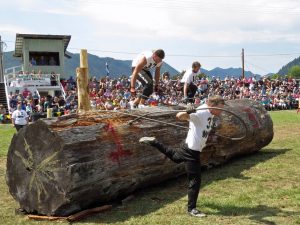 The Riverside Gala is a fundraiser for the Chehalis River Basin Land Trust. On August 11, a fabulous dinner is served at the Discovery Trail along the Chehalis River. Enjoy phenomenal food in breathtaking scenery while helping with land conservation efforts.
Chehalis Music in the Park Series at Recreation Park is fantastic for music lovers. Country singer Ty Herndon will perform on July 27 and Halfway to Hazard plays on August 3. On August 10, Elliott Lurie will perform. Bring the family and a picnic, and enjoy this free music.
The Southwest Washington Fair is August 14 to 19. This year's theme is A Touch of Country. The event promises to be full of fun in the sun with music aplenty, tons of yummy food and shows galore. There's so much to do and see between rides at the carnival.
Midnight Rider on August 25 is for horse lovers. Under a full moon, night ride on a romantic seven-mile trail or test your endurance with a thirty-mile ride on the Willapa Hills Trail.
September 2 is the third annual Rust or Shine Car Show at and benefiting the Veteran's Memorial Museum. Bring your car no matter its condition for the car show and enjoy the music festival while you're there.
Don't miss the Community Farmers Market in Chehalis. On September 21 Paul Mauer and the Silence will be performing live music. Find handmade items, farm fresh produce, plants, flowers and eggs. Enjoy free wine tasting at M&K Market and a relaxed atmosphere. Come on down for the last Friday night market.
Chef's in the Field at Newaukum Valley Farm on September 22 is a feast for the senses. Walk the fields for an educational farm tour and see how the crops are grown before they join your meal. The chef will guide you through a memorable dinner of five courses.
Before you know it, summer will be over. There's something local going on every weekend so get the most out of your summer fun. Grab the kids and the grandparents and make some memories that will last.