The question people most often ask Jim Brinkerhoff, owner of WhoDat Towers, is where his company's name came from. Jim laughs and shares that his youngest son was born with a mohawk. "As a baby, you could stand his hair straight up," Jim says. "My dad walked into the hospital room and said, 'Who dat baby?'" His son's nickname became WhoDat and when the family business began, it seemed natural to name it after the inside joke.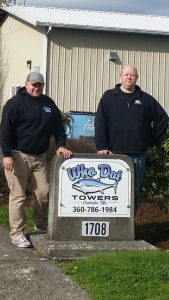 WhoDat specializes in custom fishing towers for boats. According to WhoDat Towers, the primary function of a fishing tower is to provide a structure for fishing pole storage. With added accessories they are great for net storage, and the mounting of electronics, antennas and lighting. They also function as an excellent hand hold.
WhoDat also builds wakeboard towers and skip or T-top tower covers. Plus, the company will do just about any kind of aluminum welding.
WhoDat's products are different from anything else on the market because they specialize in anodized aluminum. "That is what separates us from anybody else," Jim says. "Salt does not do well with paint. Our very first tower still looks brand new and that boat is in salt water two hundred days a year."
Jim created WhoDat during a time of upheaval. The economy was weak and the contracting and home building industry was faltering, putting a strain on the business he had owned since he was nineteen. "My wife and I saw it coming like a freight train," he says.
WhoDat was inspired by a similar company in Florida that Jim always found interesting. One day, he walked into the business and an employee gave him a tour. The idea took off from there. "We had no idea what we were doing," Jim says, "but I knew I wanted to do it. We are self-taught. We didn't even know how to bend pipe or weld it."
From these humble roots, Jim and his team have built a thriving enterprise. Civil engineer Tim Sanders plays an integral role using computer-aided design software to draft the towers. The longtime friends have fun working together. "Tim and I get along so well," Jim says.
"We complement each other," Tim says. "On the computer side, it needs to be right. I have to convert working knowledge to mathematical knowledge."
"Tim is educated," says Jim. "And we keep learning. We're still teaching ourselves to make it easier, faster and better."
WhoDat is truly a family business. Jim's son, Cody, does fabrication and installations. Cody's younger brother, Derek – the original WhoDat, will join him after graduating high school this summer and Jim's wife, Sandy, does the bookkeeping.
The company started in the Brinkerhoff's home, which it quickly outgrew. Now WhoDat's five employees work from their facility in the Port of Centralia. "We fell in love with Centralia," Jim says. "The Port has been great and bent over backward for us. We're just a small family business that is looking to grow in the future."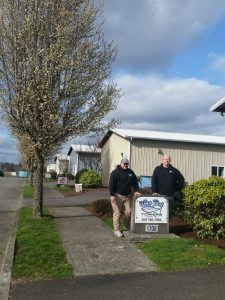 Customers come from all over, including Canada, California, Michigan and Montana. Their customer base even includes one famous hockey player, a fact Jim discovered when he accidentally Googled the player's name. "He had a nice car, cool boat and dressed really nice – not like a normal fisherman – but he was missing teeth," Jim laughs.
When the tower was done, Jim asked for a signed photo for his hockey-fan brother-in-law's 50th birthday. Instead, the player sent two signed hockey sticks. "It was so cool," Jim says. His brother-in-law thought it was the best birthday present he had ever received.
WhoDat's clients appreciate a better-built product. "It's a bit of an art," Jim says. "We have to match the boat and build it to the owner's needs. It's truly custom."
One client wanted a bottle opener on his tower, so the WhoDat team designed, tested and implemented it. They added it as an available feature on the website and now it is a popular option. Other additions like net holders, handholds and rod holders are all customizable.
Besides towers, WhoDat also makes custom foam boat decking and cutting boards in-house. Tim has taken the lead on these products. "It's challenging and I like to be challenged," he says.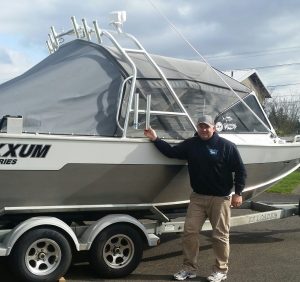 "Go fish your boat first and see what you need," Jim recommends. Modifications can happen later. "We won't build anything that won't work. We want it to look like it was always part of the boat." Boats need to be in the shop for about a week or towers can be shipped if needed.
The WhoDat team goes above and beyond for each customer. "If something is wrong, we fix it," Jim says.
To maintain excellent quality, Jim runs a lean business. He is involved with the process of every WhoDat project. "Quality is what sets us apart," he says. "Being small keeps the quality high. I'm proud of us and what we came from: starting a business that really no one else does."
WhoDat Towers
1708 Midway Ct.
Centralia
360-786-1984
info@whodattowers.com
Sponsored