Stan Bowman learned about business and hard work from his parents. Son of Rose and Leon Bowman, he grew up in a family where community service was a part of everyday life. "Whenever they saw a need, they stepped in," Stan recalls. He remembers when his brother wanted to play soccer and the school didn't have a team, "Mom made it happen." The Bowman family are not the kind of people to wait around for someone else to get something done.
Stan's father, Leon, owns Kresky Auto Repair and Electric. This is where Stan first went to work. "Small business owner is the hardest job in the world," he says.
Stan and his siblings all worked in their father's business, making it a true family affair. That additional work at a young age laid the foundation for the rest of his career.
His mother, Rose Bowman, was not only Governor of the local Rotary districts in 2015, she was also the county's first female treasurer – a position she held for twenty years. Rose also served two terms in the House of Representatives. Rose lost her battle with cancer in May of 2017, but her legacy lives on.
The Bowman family wasn't all about work – they enjoyed being outside and skiing at White Pass. As the youngest of three kids, Stan recalls his mother always keeping up with her children. "Mom never got to rest, I realized later." He remembers long family road trips to Oklahoma when they would entertain themselves by singing goofy songs and playing the alphabet game.
Stan went on to become a lobbyist in Washington D.C. and credits his desire to go into politics to his mother. "Working with her opened my eyes … Campaigns are a rush, but the joy of making impactful changes in the law for families is what kept me there," he says.
Stan worked with Senator Slade Gordon to amend a law to give equal protection under FMLA to adoptive families as well as extending medical laws for preexisting conditions to adoptive families.
Senator Slade Gordon was one of Stan's mentors. "He had a bigger than life persona," he says.
Stan recalls a memo he sent to Slade that was returned with corrections. "Excellence was expected – not the minimum," Stan says. "You always have to do to the best of your ability." Today he credits Slade with helping him achieve his goals.
Another of Stan's mentors was Jim Dinegar of the American Institute of Architects. He showed Stan how to look at the big picture and taught him to safely trust in others. "It's good to accept help, but you can't count on it," Stan says. "We can never get anywhere alone."
Stan credits his strong faith for his success. The First Presbyterian Church was what saw him through his "youthful phases" and taught him the importance of God and being generous to others. Now his religious home is Bethel Church. Here he began to understand who he is and learned to keep Jesus central after some humbling life experiences. "The bigger the screw-up, the more important it is to take responsibility," he says.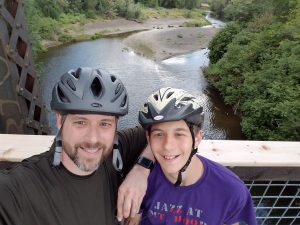 Stan recalls on particularly humbling experience. He was going to give an award when he found out that the numbers had been transposed – the award was going to the wrong people. In this moment, he thought of the four-way test of Rotary: Is it true, is it fair, will it bring goodwill and will it be beneficial? "You have to do the right thing," he says. "It was the best it could be. Mistakes happen, but you have to step up and take responsibility."
Ultimately, the mistake was corrected and Stan had to make the call, tell the truth and disappoint those who were expecting the award. It was upsetting but, ultimately, the right choice. "The number one quality in a leader is humility," he says. "You must learn to listen and heed the advice of others. Prepare to be wrong sometimes, but you have to be able to be decisive and make decisions."
Now, as a Financial Advisor for Thrivent Financial, Stan enjoys helping people in need. "This is our promise," he says.
It is important to Stan that his faith and profession are integrated together. Thrivent Financial knows that when they help members be wise with money and live generously, the result is stronger members, families and communities. The principles of the company are to spend less then you make, be wise with debt, protect yourself against setbacks, have a short and long-term plan and give back.
Stan plans to continue building his current practice in Olympia and would like to expand to the Centralia/Chehalis area someday soon. He cites that 42 percent of Americans have saved less than $10,000 for retirement. With rising debt levels, that's a scary combination. He is excited to help Lewis County better their situation.
Family is incredibly important to Stan. "Kids are proof that God has a sense of humor," he says. He wants to raise his teenage son, Carter, and daughter, Georgia, to find their own path to happiness. "This is home," he says of Lewis County.