Since its statewide legalization, marijuana has become common in Lewis County. But despite its prevalence, there is still much confusion, misinformation and hear-say surrounding the topic. Which products are best? What is the proper dosage? Who is qualified to answer questions and give recommendations?
Meet your local budtenders.
The budtenders at Gypsy Greens offer ongoing assistance, including information and recommendations for recreational use. They know the difference between each strain and form, and how to dose appropriately.
Julian Rodriguez, Assistant Manager of Gypsy Greens came to Washington from New Mexico to enjoy the forests and work in the marijuana industry. "It's so beautiful here," he says. "I can walk out of my condo and there's a forest that I can explore. That's still unreal to me." Julian is a devoted father who says, "My number one is my daughter."
Julian previously sold 401k's and pensions with Fidelity. His drastic career change came from his misery in the corporate world. "Not one day have I come to work and felt that now," he says. "And that's everything to me … The opportunity to educate people does it for me. There's so much good that comes from the cannabis industry. My favorite part is educating people. At the end of the day, education is all that matters."
Jennifer Lamar is an Assistant Manager with Gypsy Greens. Her mother previously owned a dispensary and, after becoming a Gypsy Greens customer, it felt natural to go into the marijuana industry. "To see someone smile who is fighting cancer and to help them endure it – at least a little bit – is worth it all," Jennifer says. "It's just rewarding – that feeling you get when you help people."
Jennifer appreciates the social aspect of budtending. "My favorite part of the job is building relationships and meeting the coolest people in this area," she explains. "I would never get to meet [our customers] anywhere else. We get all walks of life here, so that's awesome … Good people with good vibes are very important to me."
Jennifer is outdoorsy and enjoys sports. She plans to someday use her science degree to perform analytical marijuana testing in a lab.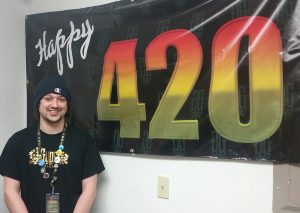 Destry Jones is the Lead Budtender at Gypsy Greens. He previously worked in construction and as a cook. His marijuana knowledge led him to the job. He studies and researches related laws, products and the industry. Destry is passionate about marijuana's benefits. "There's a reason he's the Lead Budtender," Julian says. "He's just a fountain of knowledge. We help each other to help the customers … We all rely on each other."
Destry enjoys making music, but his two-year-old daughter is his true love. "She is what I look forward to when I get home," he says.
He enjoys seeing the variety of people who come into Gypsy Greens. They all diverse but all share the same commonality – marijuana. "That brings happiness and joy to everyone," Destry says.
Raffe Reyes, Manager of Gypsy Greens, refers to the team as a "4:20 family." "We are happy to be here," Julian says.
By sharing knowledge, budtenders stay informed of products and customer preferences. "Product knowledge is so important," says Jennifer. "You have to know your products and customers."
The group takes pride in spending time with customers to really understand their needs. "You have to be able to read people," Julian says.
Many customers come in weekly and the budtenders get to know them over time. This relationship helps budtenders make specific recommendations based on feedback. "We know our customers by first name," Jennifer says. "We are always busy and on our feet."
"We work hard here," Julian says, "but people express their gratitude."
The budtenders at Gypsy Greens are focused on doing what's right, ending marijuana stigma through education and supporting the industry. "We love everyone, we love our community and our family here," Jennifer says.
Gypsy Greens is an excellent choice for newcomers and experienced partakers alike. Their budtenders ensure customers feel respected and welcome, and have the information to make an informed choice.
For deals and updated menu information visit Weed Maps. When visiting Gypsy Greens, remember you must be over age 21 and bring your photo identification. All sales are cash only.
Gypsy Greens
1570 N. National Avenue
Chehalis
360-996-4030
21+ only
Warning: This product has intoxicating effects and may be habit forming. Smoking is hazardous to your health. There may be health risks associated with consumption of this product. Should not be used by women that are pregnant or breast feeding. For use only by adults 21 and older. KEEP OUT OF REACH OF CHILDREN. Marijuana can impair concentration, coordination and judgment. Do not operate a vehicle or machinery under the influence of this drug