This year Easter falls on April Fool's Day. Don't be surprised if the Easter Bunny is out to pull a few pranks this year! This holiday typically also marks the beginning of spring. Here in the Pacific Northwest, we're all looking forward to warmer weather and outside activities. If you're looking for fun Easter events to do with your family, there are a lot of great happenings in all parts of Lewis County.
Bethel Church Easter Eggstravaganza
132 Kirkland Rd. Chehalis
Saturday, March 24, 10:00 a.m. and 2:00 p.m.
This event is so huge, they have two separate times for egg hunts. Easter Eggstravaganza is not only an egg hunt, but has other fun activities such as bounce houses, pony rides and treats. Kids are divided by age to look for 70,000 eggs filled with candy or prize tickets.
Mossyrock Fire Department's Easter Egg Hunt
Mossyrock School
Saturday, March 31, 10:00 a.m.
If you live on the east end of the county and are looking for an Easter activity, the Mossyrock Fire Department's Annual Easter Egg Hunt will be held on the Mossyrock School lawn. It promises to be fun for the whole family and there will be prizes.
Downtown Chehalis
Saturday, March 31, 12:00 to 2:00 p.m.
Kids can collect eggs from participating businesses in downtown Chehalis – a fun way to explore downtown. Then head on over to the Lewis County Historical Museum to get pictures taken with the Easter Bunny.
1101 Southwest Sylvenus St. Chehalis
Saturday, March 31 with departures at 11:00 a.m., 12:30 p.m., 2:00 p.m. and 3:30 p.m.
Climb aboard a vintage steam train for a relaxing thirty-minute train ride through the countryside. Kids will hunt for candy filled eggs hidden by the Easter Bunny and Chicken Little. Many eggs will also have prize tickets inside to be redeemed in the train depot afterwards.
Activities will vary for age groups. Reservations are required and inside seating space is limited. Tickets will be available online for this event.
Evergreen Christian Community's Family Easter Event: The Carnival
The Great Wolf Lodge
20500 Old Highway 99 SW, Rochester
Saturday, March 31, 1:00 p.m.
The Carnival is an Easter Party for the whole family. Join in for lots of fun at the Great Wolf Lodge conference center. There will be an egg dash, as well as inflatables, face painting, delicious snow cones and crafts.
Baily's IGA Easter Egg Scramble
Saturday, March 31, 11:00 a.m.
Fun for the whole family with free hot dogs and refreshments. Kids will scramble to find the hidden eggs and search for golden eggs containing special prizes.
White Pass Ski Area
Sunday, April 1, 9:00 a.m. to 12:00 p.m.
If skiing is your thing, head to White Pass and enjoy the snow while kids hunt for eggs hidden all over the mountain. You can also bring your own eggs to add to the hunt.
Jeremy's Farm to Table Annual Easter Brunch Buffet
576 W Main St. Chehalis
Sunday, April 1
10:00 a.m. to 4:00 p.m.
For those who would rather have someone else do the cooking for Easter, Jeremy's Farm to Table will have their annual Easter Brunch Buffet. Sit back and enjoy a menu featuring French toast, eggs, bacon, biscuits and gravy, prime rib, ham, chicken, fresh fruit and gluten-free desserts. Cost is $32 for adults and $27 for seniors and veterans. Kids aged six to 12 are $19 and under five years old are free. To make reservations, please call 360-748-4417.
After Easter, get outside and enjoy some of the wonderful State Parks in the area. There are two free state park days in April. Spring Day is April 14 and to celebrate Earth Day, parks are also free on April 22.
Another springtime event in the area is the 53rd Annual Home & Garden Show on April 13, 14 and 15. This family-friendly event features vendors who will inspire you to improve your home or outside areas. There will be showcases with some of the most innovative home and garden experts along with tips and tricks for any do-it-yourself project.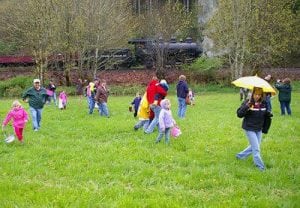 NW Sports Hub
701 Allen Ave, Centralia
Friday, 10:00 a.m. to 6:00 p.m.
Saturday, 10:00 a.m. to 5:00 p.m.
Sunday, 10:00 a.m. to 4:00 p.m.
Enjoying springtime in Lewis County is easy with all these fun-filled events. Spend some time with your family and create new Easter traditions with one or more of these wonderful events.