Richard Graves, aptly nicknamed The Chip Guy, was already giving out food from his truck before opening a food distribution warehouse in Centralia a year ago. Truly a mission of waste not, want not, Richard and a team of volunteers from God's Portion Ministry and the community give out free food to anyone who wants it. "We are not a food bank," he stressed. "There is no one in this community who should not take advantage of this."
Fresh produce and chips, as well as bread and soda, are often part of the food give. On this particular day, the list included soda, onions, zucchini, bell peppers, tomatoes, chips and some bread. Richard indicated that in the summer months the gives are a lot bigger, with more variety in the produce. Limits on how much one person or organization can take is based on availability, yet it is common to see boxes and boxes of fresh produce going out the door to people's cars.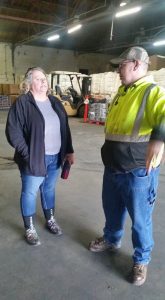 Kerry Sotelo, Warehouse Manager, and her husband, Derek Sotelo, work with God's Portion Ministry. They have been volunteers with the organization for over five years now, first working in Yelm and now in Centralia to support Richard in his quest to feed Lewis County. Derek was active duty military and is now retired. The couple started by giving out food from their home to veterans. They are now working at the food warehouse five days a week to keep the flow of food from distributors to Lewis County residents going smoothly.
Kerry stressed that unlike food banks, this resource is open to anyone. "We don't discriminate and we don't care about your income," she said. Those wanting to pick up food only need to sign in and provide the household size.
Volunteers who help with the massive undertaking are of all ages. One volunteer named Darcy was there with her fourteen-year-old daughter, Wendy. "Wendy comes even if I can't," Darcy shared. The mother-daughter duo have helped with food giveaways for almost a year.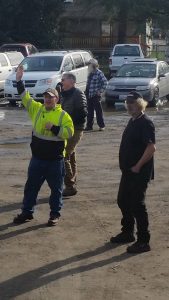 It typically takes six to twelve volunteers to help inside the warehouse and direct traffic. Richard does not schedule these volunteers – they just show up. They have somehow always had the hands they needed to get the task done. "Volunteers come and feel like they are doing something good, and then they also get to take food home," said Kerry.
Naomi Golding and her husband Dale have volunteered with the warehouse since September. Dale went to the scrap yard where Richard works full-time and heard about the food giveaways. The couple decided to help out. "We used to see 50 to 75 people each time," Naomi shared. "Now there are 250 to 300 people at the food gives."
Even with the food giveaway running on volunteers, the organization still has costs. Monetary donations and grants are always needed. Some of the larger expenses include fuel costs, maintenance and refrigeration costs. Donations are gladly accepted at the warehouse and there is a bucket set out for each give.
Beyond feeding people, the organization is all about recycling and keeping food waste out of the landfills. "Besides feeding people we are feeding animals, which feed people," Kerry explained. If produce is not quite fit for human consumption, it is available for animal feed. "Small farms that want to come and get food for livestock, please come and get it," Richard said.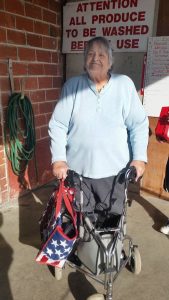 Organizations such as Free Hot Soup at The Gather Church, Salvation Army of Centralia and others are welcome to come get whatever they can use. On this day there was also a pastor and his son from Morton who came to collect a truckload to take to the east end of the county for distribution. Kerry indicated that thousands of pounds of food goes to organizations that are helping others gain access to food. She also explained that one of the local food banks was buying bread and is now able to get all the bread they need from the warehouse for free.
The line wraps around the building when it's time for a food giveaway and Richard takes his place in the middle of the parking lot to give directions. Twilla Miller and her husband were some of the first in line. "Fresh vegetables are the reason we come every week. We eat them and dry them and the savings are hundreds of dollars for us," said Twilla.
Barbara Goodwin of Chehalis was visiting the food warehouse for the first time. "What a benefit to the community," Barbara said. Those who have come to pick up food often stay and help load for those in need of assistance.
Public food giveaways are held on most Wednesdays at 5:00 p.m. and most Saturdays at 3:00 p.m. Richard posts if the warehouse will be open and what is available on The Chip Guy Facebook page. The page's FAQ says, "Tell your friends, tell your neighbors, tell your family. Everyone in our community could be blessed and be a blessing through this program."
The Chip Guy
1025 F St.
Centralia