Chehalis is a great place to work and live, just ask Trevor Elliott, community-based commercial and personal insurance Senior Advisor for HUB Northwest Insurance. Sitting down with Trevor at the Market Street Bakery, it's easy to see his passion for the community and he will gladly tell you why.
"Chehalis has a rich history of giving of time, heart or money and it is a special place because of that," says Trevor. His passion for his hometown and for giving back to the community who raised him is demonstrated in every aspect of Trevor's life. From his career to his many projects and volunteer work, Trevor is all about relationships and it shows.
As a young person, Trevor was influenced by those around him. When asked what he wanted to be when he was a child, Trevor quips, "I always knew I wanted to work in business but as a kid, I wanted to play professional basketball."
Trevor, who played sports as a young person, is now able to live out some of his childhood dreams. After studying business in college, he returned home and is now an assistant coach for W.F. West's boys basketball team. He feels being part of his alma mater is a blessing, a way to reach youth before they graduate and a way to help them build character.
As president of Young Professionals of Lewis County, Trevor strives to encourage young people to stay in Lewis County when they begin their careers. He wants to strengthen the community and remind young people that big cities will not offer the support that is available locally. Trevor has grown the organization yet is quick to give credit to those who have built the foundation before him. "We have a strong group of Young Professionals here," Trevor says. "It's all based on the hard work of previous generations."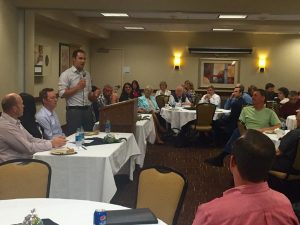 A true servant leader, Trevor strives to show grace to others. His involvement in the community is far-reaching and diverse. Aside from coaching and Young Professionals, Trevor is also Chair of the Economic Restructuring Committee with the Chehalis Community Renaissance Team. He is a mentor at W.F. West High School and is now President of the Visiting Nurses Foundation.
Jenny Collins, Executive Director of the Visiting Nurses Foundation and Assured Home Health and Hospice, says of Trevor, "He is a selfless giver of his time and expertise. I rely on him for professional advice to help people in the worst time of their lives." The Visiting Nurses Foundation is in nine counties, including Lewis County. They offer a medical equipment bank as well as home hospice care for people in need of end of life care.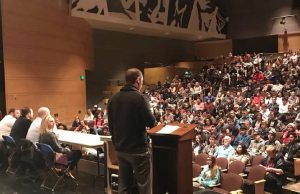 Part of Trevor's work with the Economic Vitality Committee has been with the Washington State Main Street Program. This program is helping communities like Chehalis and Centralia to rejuvenate their economy and the image of their business districts. By offering tours of vacant buildings to potential business owners in Chehalis, the committee has helped to occupy eight spaces that were empty in the downtown area.
Another project near and dear to Trevor is the Downtown Facade Grant Program. This project is also offered by the Chehalis Community Renaissance Team. The grants are designed to help downtown businesses and property owners improve the fronts of their buildings. The grants offer a fifty percent match, up to $2,500 per business for enhancement expenses.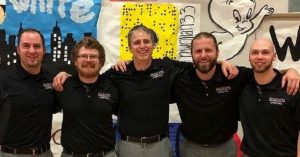 "We are grateful to Trevor for his dedication and enthusiasm as a CCRT board member and chair of our Economic Vitality Committee," says Annalee Tobey, Executive Director of the Chehalis Community Renaissance Team. "His contribution is incredibly valuable as we broaden our role encouraging economic development in Chehalis. He's an incredible advocate for the growth and prosperity of our community."
After our interview, Trevor was eager to show me a newer business on Market Street downtown. Chehalis Coworks offers an ideal place for freelancers, travelers and mobile professionals to get work done in a shared and collaborative workspace. The newly remodeled space has fast Wi-Fi, meeting spaces, quiet areas and outdoor space, as well as a kitchen and office supplies. Accessible twenty-four hours a day, seven days a week, space can be rented by the day, week or month.
Trevor Elliott really is a remarkable local you can know and trust. "My life's mission has one goal," he says, "be involved in organizations that impact lives individually." So if you are looking for a way to give back, follow in Trevor Elliott's footsteps and find a project to improve your community. Join a club or organization and do something to enact positive change in an area you are passionate about. Trevor shares his best advice for young people, "Gail Shaw told me once, 'Find something you are passionate about and be involved. When you lose passion, find someone else to take over and get out of their way."