Kallan Kersavage has worked at Jerry's Color Center in Centralia for 17 years, managing it for the last four. During that time he has developed a sideline business where he "shocks" wood with electricity to create unique patterns that look like lightning bolts. Appropriately, his business is called NWHighVolt.
Known as fractal wood burning, the process uses high voltage electricity to burn a design on wood. Kersavage's co-worker, Jared Taylor, saw the process demonstrated on YouTube and Kersavage took it a step further and incorporated it into a safe, insulated box.
"It's a dangerous system and a dangerous box with no doubt whatsoever about that," Kersavage said, "but with a respect for electricity, you can use this if you understand how." Transformers from microwaves are used and rewired to produce all the power they can deliver. "It's made very safe, very insulated to keep any electrical currents from skipping or arcing or any accidental touching of the electricity," Kersavage said.
Although the shocking design is determined by electricity, Kersavage has some control over it. "I can control where the current goes and I can control the span of the branching. I can make it turn and I can make it do other stuff, but as far as other characteristics, it's solely up to electricity doing it's own thing."
Taking pictures of his equipment is not allowed. "We don't show pictures of the box or how it's designed," Kersavage said. "We keep that to ourselves." Other people have seen it and tried to replicate it but they don't add the personalized touch to the wood.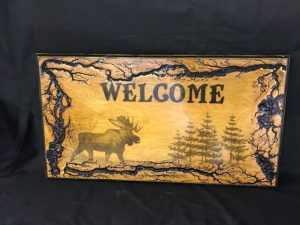 Artwork in the form of hand drawn art or ink transfers is added after the shocking pattern is established. "The shock was not enough," Kersavage said. "It needed more so we took it one step further and started adding artwork to it."
Kersavage uses any type of wood and makes designs on signs, plaques and boxes. He has also decorated gun stocks, boat oars and a game table. "If it's wood, it can be done," Kersavage said. "It's a rustic look, always one of a kind. Nothing will be identical."
Kersavage can also add a glow inlay in multiple colors. He mixes a UV glow powder with clear resin and works it into the crevices of the shocked wood. After letting it dry, Kesavage sands everything. Then when the lights are turned off, the painted sections shine.
Local businesses have been very supportive of Kersavage's decorative wood creations. Original Showcase Kitchens has supplied him with high grade wood and displayed his work at Interior Design Center, their store front in Chehalis. Jerry's Color Center has also provided a wall to show Kersavage's products in their store at 1321 Grand Avenue in Centralia.
All of Kersavage's woodwork is reasonably priced. "You want people to be able to afford what they like," Kersavage said of his pricing. At one time he sold his work in a couple of gift shops. Now it is all sold privately. To see his handiwork, go to Jerry's Color Center or visit the NWHighVolt Facebook page.