You've probably heard of the Dorothy Law Nolte poem, "Children Learn What They Live." Part of it says, "If a child lives with encouragement, he learns to be confident. If a child lives with tolerance, he learns to be patient. If a child lives with praise, he learns to be appreciative." The same philosophy is true with adults and Cristi Heitschmidt, Dean of Teacher Education and Family Development at Centralia College, understood that very well. She chose to lead – and live – in that manner.
We lost Cristi on February 1 after a five-year battle with a rare cancer. You wouldn't know Cristi, a resident of Olympia, didn't live in Lewis County because she connected so well with everyone in the community, getting to know our values and our processes.
Cristi was always positive and supportive. She recognized everyone's strengths, supported our ideas and gave us positive feedback. She helped wherever needed and encouraged everyone to help each other. When you live that kind of life at work, it's easy to learn it and pass it on to co-workers and the students in our programs, just as a child raised in a positive household learns how to be a positive human.
Cristi got to know every single staff member individually. She believed in stating the positive attributes that she appreciated about people. At every staff luncheon she wrote individual notes to every person who attended.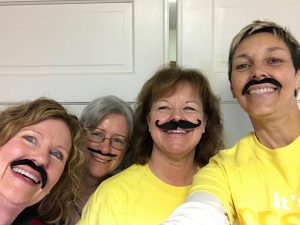 Cristi loved her work. She believed it was very important. She also knew how to play and have fun. She often had us playing funny team-building games that allowed us all to get to know each other better. And while our work itself was deemed important, she allowed us to put our personal lives first. If someone had an opportunity to be gone for a personal event but was concerned about missing work, Cristi simply encouraged them and in no way made them feel guilty about taking off. "Anything can be worked out," she'd say. "Go and have fun."
Cristi was open with her illness from day one. The biggest benefit of this was that it allowed us to show how much we cared. Most of the time, we don't want to tell people how we really feel because we don't want them to think that WE think their time is imminent. But Cristi was so open about her cancer and so many people loved her so much that they wanted to be open with her in return. They wanted to make sure they said the things most people don't say.
Even though she knew her time was short, she said that she felt blessed. Blessed that she had the life she had, that people wanted to tell her how she impacted their lives and what they loved and appreciated about her. Most people don't get to hear that. How awesome it was that we had that chance to say those things before it was too late. And every comment after her passing contained words such as, inspirational, classy, compassionate, strong, amazing and dedicated.
Cristi was a strong woman of faith. She believed that God has an individual plan for each of us. She made the most of each day and encouraged us to do the same. When asked shortly before her passing what her greatest lesson learned was, she said, "Perspective. Not everything is as important as someone else might want you to think it is. It's the people. That's all that matters. Nothing else."
Her advice to us was, "You could focus on the negative but the more you can see the things that are going well, going right, the more you'll be able to focus on that. And that makes it much more joyous to go through the day."
Cristi made each and every day joyous for family, friends and co-workers. She modeled treating others with respect with a sincerity you couldn't doubt. She made us family. Losing Cristi is not losing a "boss," it's losing a mentor, a friend, a sister. She taught us perspective and how to be appreciative and thankful to each other, something we will carry on in our work and personal lives. We learned what we lived, thanks to Cristi.
Cristi's Celebration of Life will be on Sunday, February 11 at 2:00 p.m. in the Centralia College TransAlta Commons building. In lieu of flowers, her family is asking for donations to a scholarship in Cristi's name. This will be awarded to students in the Bachelor of Applied Science – Teacher Education program at Centralia College. Donations can be made online through PayPal at foundation.centralia.edu/givingonline.html. Or checks can be mailed to the Centralia College Foundation at 600 Centralia College Blvd., Centralia, WA 98531. Please note on the memo line that the donation is to the Cristi Heitschmidt scholarship.