It started with a friendly greeting as I arrived at I-5 Toyota in Chehalis. Eagerly waiting to help customers outside, the staff was far from intimidating and they quickly guided me to the right salesperson in their building. Open and full of smiling faces, I-5 Toyota is part of the new style of car dealerships, catering toward the customer's experience and needs. Like most people, I hadn't bought a car or even taken one out on a test drive in many years, so this would be a fun day.
As I sat down at the salesperson's desk, I was struck by how sleek and smooth the cars around me were. Shiny and new, it was tough to figure out what type of car to drive. Instead of deciding, I asked longtime salesman Craig Anderson what he thought we should drive. Craig has been selling cars since 2009, with 1,600 happy customers now driving cars around the region, so I trusted his judgment. He decided that for me to get the best feel of a new Toyota, that he would take us out in his brand new 2018 Toyota Avalon.
"It has been a real blessing to have so many customers," Craig told me as we walked to the car. "It is a fun business and I enjoy making sure they have the best car for their needs."
Getting in a new car is always interesting, as everything is a little different. The first thing I noticed is the always fun "new car" smell. Taking a whiff of that unmistakable scent is indescribable and impossible to replicate. As I became intoxicated with the aroma of new plastic everything, I adjusted my mirrors and seat and got ready to drive. Before we left, Craig spoke an address into the car's GPS unit and explained a bit about the new Toyota GPS system.
"While most cars today have navigation in them, I think Toyota has gone two steps above everyone," Craig told me. "It is a great system and everyone should have one to make sure they can get where they need to go. The great thing about Toyota's navigation is that it doesn't tell you it is recalculating or tell you to take a U-turn ahead. It autocorrects and will route me there as quick as possible without interrupting your drive."
The technology is designed to keep the driver safer. With seamless navigation done with voice guidance and updates without reroutes, the system was easy to use and simple to program. As we chose to weave off course, the GPS simply added a new direction instead of telling me to take a U-turn or return to my old route. You can also speak to the GPS unit and it will route you to any type of food you want, or to a gas company you frequent.
While the dealership likes to go on a standard course during test drives, I-5 Toyota does allow variations, especially if there is a hill that the customer lives near and drives often. The course the dealership uses is designed to get the customer excited about their new vehicle and to show off the car they are driving. The salespeople at I-5 Toyota will take you where you want to go and make sure you see the power of each vehicle you drive.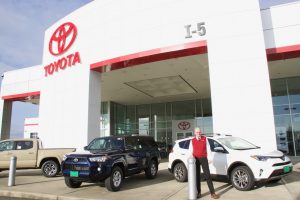 As we drove around the neighborhoods of Centralia, I started to play around with some of the new safety features. Featured in every new model from 2017 on, Toyota has installed what they call Toyota Safety Sense. These are amazing features that I never dreamed of having in an automobile. This is the technology that is going to lead to autonomous driving cars but, for now, is technology that will keep you and your loved ones safe.
One of the many features I played with while driving the 2018 Toyota Avalon was the dynamic radar cruise control. With the help of sensors and computers in the car, this allows you to set the distance between you and the car ahead of you while using cruise control. If the car ahead of you slows down when this is activated, your car slows down and even puts on the break lights, so the cars behind you know you are slowing down. There is also lane control available, which helps keep you in your lane, pushing you away from the shoulder or other lane when driving over 30 MPH. These safety features are great for drivers of all ages and abilities, as they help make both you and the other cars and pedestrians around you safer.
The new Toyotas also have sensors in the front that will stop the car for you if you are going to get in a collision. While I was driving on the freeway, Craig told me a story about when they were testing this technology at an event. He drove a car between 25-30 miles per hour directly at a parked car, without applying the break. The car stopped without incident. I didn't dare give this a test.
The rest of the drive went well, with Craig wanting to remind everyone that right now is a great time to buy a car, thanks to low interest rates and incredible vehicles rolling into the dealership. He also wanted to share that after so many years and so many customers, Craig will be leaving I-5 Toyota in October of 2018, retiring to destinations unknown. If you're ready for your next new car, stop by, check out the new Toyotas and be amazed at the technologically advanced cars that will soon be cruising Pacific Northwest roads.
Sponsored