If you own a business, no matter how small or large, you need advertising. Advertising is what keeps you in business and helps you grow. But it can be daunting to know how to get the best quality sign for your money or the most eye-catching design to stand out against all the others. And you may think it will cost you an arm and a leg (something we are pretty sure you are attached to). Not to worry – Twin Cities Sign & Graphics makes getting whatever you need for your business easy and affordable.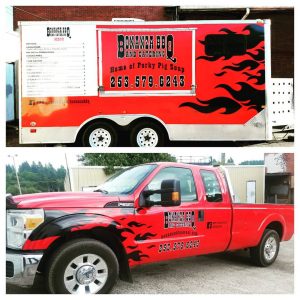 And when it comes to "whatever," we really mean it. Just glance at their site or step into their showroom and you will be blown away by the options. Just a few highlights of popular items they design and print include vehicle wraps and decals, sandwich boards, vinyl decals, banners, custom decals, full-window displays, cardboard cut-outs and even Fat Heads. Need paper products? Twin Cities Sign & Graphics can design and print anything including brochures, flyers and business cards.
They even offer drafting services so they can help you design your very own dream house. You'll end up with a working drawing set that's ready to be submitted for permits. There really is nothing they can't do when it comes to design, graphics and printing.
Ordering Is As Easy As 1-2-3
For owner Kelley Christensen, customer service is the number one concern. So she has made sure the process at Twin Cities is not only affordable, but easy to understand. "We get that it can be intimidating with so many amazing choices," she says. "And sometimes people aren't sure where to start. We help them so they know where to start with products that fit their budget."
When a customer walks into Twin Cities Sign & Graphics – let's call him Bob – he is met by Kelley herself.
Step One: Bob is greeted by Kelley who sits down with him to learn more.
"When someone comes in, the first thing I ask them is if they are looking for something personal or for business," says Kelley. (Our friend Bob has a business). "Once I know that he has a business, we start discussing all of his options."
To Bob, the plethora of options seems a bit overwhelming. But Kelley is quick to put him at ease. She asks easy questions that put Bob in control of the conversation. "I really like to just talk to the customer and ask them what colors they like and what styles they prefer or do not want, so I can get an idea of what will fit them best."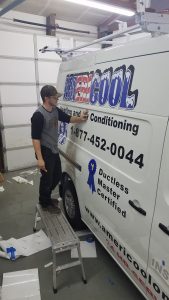 After asking about preferences, Kelley finds out if Bob already has a logo or if he needs help designing one, something Twin Cities can do. Our friend Bob has a logo already, but was interested to find out about Twin Cities Sign & Graphics' great pricing structure. They don't charge for uploading your files, just for the actual time it takes to work on your project. And if you're like Bob and already have a logo, Kelley isn't going to charge you a "set-up" or import fee to take your file from you.
Once Kelley knows more about the customer and what they like, she can then suggest the best products to fit their needs. "At this point I like to bring out hard samples for the customers to see because people do have a difficult time envisioning what some of these products are like," Kelley says. "For example 'vinyl' is so many things. It helps when I can show them the difference between a vinyl banner and a vinyl decal."
Bob was thinking about a few products, including a sign and a vehicle wrap, but is worried about the cost. "People get intimated and they think a sign is going to cost thousands of dollars, minimum," Kelley says. But she assures Bob that they can work with any budget. Even if they have just a couple hundred dollars, we will find them an advertising solution they will be happy with that's in budget.
Step Two: Twin Cities Sign & Graphics begins to design Bob's products, but nothing will be printed without Bob's final approval.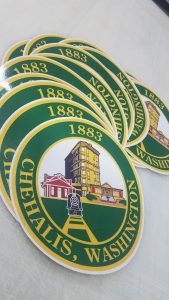 "This is a huge thing for me," Kelley says. "I absolutely do not print until the customer is completely satisfied with the design." This reassures Bob, who was worried he may end up not liking certain colors he chose or even part of the design.
"This is the real fun part," Kelley adds. "When you put something in front of someone that they have envisioned, they get a much clearer idea of whether that is really what they wanted." Kelley says it normally only takes one or two revisions, but Bob can take as many as he wants to make sure the design is just how he wants it. This takes the stress out of ordering something. "I want it to be exactly what they want and I want them to be thrilled when they see it," Kelley adds.
Step Three: Twin Cities Sign & Graphics prints the products in a timely fashion.
Since advertising is all about the "now" Kelley and her team work hard to get orders done quickly. Bob ended up ordering a vehicle wrap so Kelley and her team work with his schedule to find out when it's most convenient for him to drop his vehicle off. "Vehicle wraps take a bit more planning, since they have to drop off the car and putting them on takes one to two days depending on the size of the design," Kelley explains. "Other products have quicker turnaround."
Kelley loves having people come in and see their finished products. "That's the awesome part of it all – that reveal moment," she adds.
And if Bob should not like it for any reason? "We guarantee and warrantee our own products," Kelley responds. While they can't offer a guarantee if someone brings in their own vinyl for Twin Cities to install on a vehicle, for example, they do guarantee anything made in-house. They have a three-year warrantee on their vinyl. "We want 100 percent satisfaction. If not, we will make it right," says Kelley.
Since Bob lives in Packwood, Kelley is shipping his sign to him so he doesn't have to come back into town to pick it up.
And when Bob does comes back, there will be no extra fees to have something reprinted, since Kelley already has the designs. All he will pay is the print fee. In fact, he doesn't even have to come into the store. Bob can just call or email Kelley with his order.
To get started crafting your own advertising, visit the Twin Cities Sign & Graphics website, Facebook page or call 360-807-1200 or just stop in and chat with Kelley. As Bob found out, making your business more visible is as easy as 1-2-3.
Sponsored