It's here once again – shopping season. Most likely you already have a long list of things to buy and little time to shop. One of the best time-saving tips is to shop local for holiday gifts. Not only does it save you time and gas money – not to mention trying to find a parking spot in those bigger cities – but it helps our local Lewis County economy. Shopping local during the holiday season means you're giving your hard-earned dollars to your neighbors, who are working hard too. It keeps your money in your own county and helps it thrive. So not only are you finding some amazing and unique gifts you won't be able to get anywhere else, but you are doing a good deed too.
To encourage Lewis County shoppers to shop local, the Centralia-Chehalis Chamber of Commerce will be handing out their insanely popular Choose Local Black Friday Survival Bags on Wednesday, November 22. Three hundred free bags will be given out on a first come, first serve basis at 5:00 p.m. The bags contain prizes and coupons to local businesses. The Chamber will also be handing out prizes randomly to those standing in line.
As for where to shop, here are just a few of the many great locally owned shops around Lewis County that are sure to have something for everyone on your list, including the dog.
HUBBUB
Rebecca Staebler is the wonderfully sweet and charismatic owner of HUBBUB, a kitschy store with all kinds of gifts waiting to be discovered. She has had a rough year – a car drove through her store, which was also her home and she is now in a temporary location. But she hasn't let it get her down and her store is still packed with unique items that are handcrafted, many made right here in the USA. If you are looking to spoil a special someone (maybe yourself?) be sure to check out the Jafa books she carries. They are sublime.
HUBBUB
328 N. Tower Ave.
Centralia, WA 98531
360-736-1517
Monday: 11:00 a.m – 4:00 p.m.
Tuesday-Friday: 10:30 a.m. – 6:00 p.m.
Saturday: 10:00 a.m. – 5:00 p.m.
Sunday 12:00 p.m. – 4:00 p.m.
Three Dog Night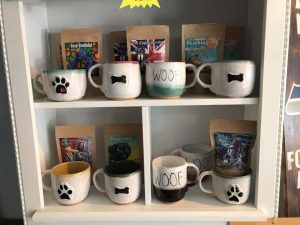 Owned by dog trainer Sara Gingerich, Three Dog Night is new to the neighborhood and gearing up for its first holiday season with gifts for the four-legged family members. Want a unique hostess gift? A treat for their best friend is always well-received. Plus many of their products are made locally. They also have items for dog lovers, including artwork and pet-themed coffee mugs. While you're there, you can also wash your own dogs so they will be nice and clean for any holiday guests.
Three Dog Night
324 N. Tower Ave.
Centralia, WA 98531
360-736-1213
Monday-Thursday: 10:00 a.m. – 5:00 p.m.
Friday-Saturday: 10:00 a.m. – 6:00 p.m.
Sunday: closed
Packwood Spirits & Quilts
Have a person on your list who enjoys local spirits or quilting, or maybe both? Than Packwood Spirits & Quilts is worth the short drive. They carry beverages from local breweries and distilleries, and can fill Growlers for your adult holiday parties. They also have seasonal brews and over 200 wines, some local. Don't forget the fabric! They carry high quality cottons perfect for the quilter in your life.
Packwood Spirits & Quilts
13042 US Highway 12
Packwood, WA 98361
360-494-5781
Monday-Thursday/Saturday: 11:00 a.m. – 6:00 p.m.
Friday: 11:00 a.m – 7:00 p.m.
Sunday: 11:00 a.m. – 5:00 p.m.
Let's Play Something
If toys are on your list, then you definitely need to stop by Adam and Toni Bennett's store, Let's Play Something. Even adults will have fun in this store that's brimming with toys for every child on your holiday gift list. They have many of the fun, old-fashioned games that are becoming popular again, along with on-trend favorites. And don't forget to ask them about their free gift wrapping.
Let's Play Something
214 2nd Ave. NE
Napavine, WA 98565
360-688-3672
Monday-Saturday: 10:00 a.m. – 7:00 p.m.
Sunday: 10:00 a.m. – 5:00 p.m.
Cosmic Comics and Games LLC
Another new local business that definitely deserves some support this holiday season is Cosmic Comics and Games LLC. They have everything you need for the gamer or comic book fanatic in your life. Not sure what to get someone in these genres? Not to worry, the owners Matt Peterson, Tyler Peterson and Cameron McGee know all about these fandoms and can help you select the perfect gift.
Cosmic Comics and Games LLC
111 W Magnolia St.
Centralia, WA 98531
360-736-2186
Monday: closed
Tuesday: 10:00 a.m. – 5:00 p.m.
Wednesday-Sunday: 11:00 a.m. – 8:00 p.m.
Country Chicks 10th Annual Holiday Market
If you don't find everything you are looking for during the mad Black Friday dash (or prefer to wait and do your shopping after) the Country Chicks Holiday Market is a not-to-miss. Chances are you will find something you must-have, including last minute decorations for your own home. The market is open December 1 from 12:00 p.m. – 6:00 p.m. and December 2 from 10:00 a.m. – 4:00 p.m. at the Southwest Washington Fairgrounds. For more information, visit the Country Chicks Facebook page.
This is just a small list of the dozens of wonderful small businesses we have here in Lewis County. For last minute stocking stuffers, stop by any of the amazing locally run coffee places for gift cards or a bag of their beans – Saint Lucia Cafe roasts their own in house. And of course, downtown Centralia is great for those looking for one of a kind antiques.
Be sure to check back with all these businesses throughout the holiday season, as they may offer special sales or business hours to make shopping even easier. And don't forget to grab one of the Chamber's Black Friday bags for even more savings. Shopping smart and local this season makes it merry for everyone!