It just sounds cute – a whole children's theater program. Little kids acting. Sounds fun to watch. But in a small, rural setting like Morton, the OnStage Children's Theatre Education Production program is so much more than just acting.
Vanessa Nixon Klein and her family moved to Mossyrock in 2005. They began going to see the shows at the Roxy Theater in Morton. "The very first Children's Theater show that we saw there, when we came out of the doors the kids all looked up at me and said, 'I want to do that,'" reminisces Klein. "They signed up for the next program and have been in it ever since."
"They have absolutely loved the program and it has helped them to grow and develop in all kinds of ways that they wouldn't have otherwise," she explains. "It has helped their confidence, being able to talk to all kinds of people from all walks of life."
Klein started out volunteering for the program as well. She has a natural cosmetics business and so has donated all the stage makeup for all the shows. Then about five or six years ago the program was in need of volunteers for more major positions. They had lost the producer for the children's program so Klein volunteered and worked in that position for about a year.
Then the Klein family moved overseas for a year and a half. "When we came back they were in need of filling several key positions on the staff, so I volunteered to direct the program and have been doing that for about two years now."
Klein says she took all the best things she had seen from other directors and put them all together to create a new program for kids. It's not just theater but facilitating life skills for the kids as well. "They learn team-building, leadership, cooperative solution-making and how to work together as a team. It's more than a theater program. It's a place where kids can learn life skills through the lens of theater arts," she explains.
Her new formula is working amazingly well. The program has grown from 20 kids to 44 kids. "I think the kids have a lot of fun and tell their friends," she smiles. "Some of these kids don't have any place else to be. There are very few other opportunities for kids unless they're in sports."
The program officially takes kids between the ages of six and 18, but has taken as young as four on a case-by-case basis. Kids with Down Syndrome, Autism, Dyslexia and other learning differences are also welcome. "We want to make the program accessible to everyone," explains Klein.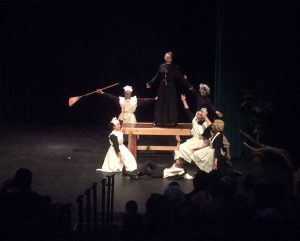 More experienced children who have been in the program for a while have the opportunity to have leadership roles such as assistant choreographer, assistant director or assistant stage manager, so they can learn other aspects in addition to being on stage. "There are plenty of jobs for introverts as well. There are four or five kids that don't want to be on stage. They work strictly backstage, helping move things around. One boy is interested in lights. He has worked the last couple of years learning the lighting system and will be doing the lighting for the upcoming shows," Klein beams.
Kids also work in the costume area, even designing some costumes. "Everyone who auditions gets a part," explains Klein. "There is a minimal cost but we don't turn anyone away. We do offer scholarships."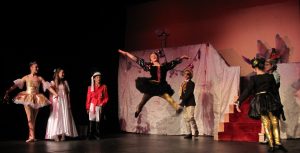 The programs run for three to four months in the fall, spring and summer. They meet two days a week and the cost is $75. The program is funded through fees and grants and is an endeavor of the Fire Mountain Arts Council. The fall program starts in September with performances held in December. The spring program starts at the end of January with performances in May and the Summer Day Camp starts in June with performances in July.
"I just love for people to know how wonderful it is for the kids, because I've been in the program so long in various capacities and have seen my children and other kids just blossom so incredibly."
Klein's middle daughter started in the program at age six and is now 16. "When she started she was so shy that the first time she was actually cast in a part where she had to say a line, she decided on the day of the performance that she couldn't say it," laughs Klein. Now she is the assistant choreographer and has been asked to choreograph other shows and events. She is planning on continuing in the performing arts when she is on her own. "It's wonderful to see how a program can allow kids to blossom."
The next production from the Children's Theater is "Bah, Humbug! Scrooge's Christmas Carol." Performances are December 1 and 8 at 7:00 p.m., and December 2 and 9 at 2:00 p.m. at the Roxy Theater in Morton.
Roxy Theater
233 West Main Avenue
Morton WA 98356
360-496-0541
roxy@lewiscounty.com