NOAA is predicting this winter will be a La Niña winter with above average precipitation and below average temperatures. What this means for Lewis County residents is the very real chance for power outages throughout the season. Are you ready? Maybe a new generator for your home is in your future. But what kind should you get?
Dwayne Boggs of Boggs Inspection Service reports that generators of all types have become a strong selling point for prospective home buyers. During their home inspections, Dwayne and his team of four trained inspectors check electrical panels and generator set-ups routinely, offering their expert eye to see if everything is in order. When issues arise, Boggs' inspectors suggest contacting a licensed electrical contractor, like Joe Mathis of Rigid Electric, to take a look.
Joe has been an electrician in southwest Washington for more than 10 years. About a year ago, he started his own company, Rigid Electric. Rigid Electric offers full electrical services including temporary power installations, LED retrofits, panel upgrades, full wiring of new residential and commercial construction or remodels and installation of generators and transfer switches.
If you are considering adding a generator this season, "call sooner rather than later, before an emergency happens," says Joe. "Once the power is out, everyone is already busy."
Portable Gas-Powered Generator
If you are looking to just keep the freezer and fridge cold through an outage, a small, gas-powered model is right for you. Economical and easy to store, they only offer 120 volts of single-phase power. Power is delivered directly to appliances, lights or heaters via heavy-duty extension cords plugged into the generator itself. "This option will keep your fridge or freezer cold during an outage, but will typically only run one or two circuits at a time," says Joe.
With prices starting at about $400 and stretching up to $1000+, in addition to the cost of cords and fuel, this is the most economical choice. An electrician's assistance is not needed for this generator, making is a simple option.
Mid-Range Portable Generator with Transfer Switch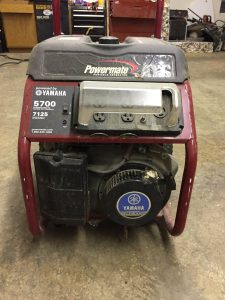 For a bit more power, look for a mid-range, gas-powered model. Stored in the garage and wheeled outside for use, this type plugs directly into your panel. "You still have to go outside in the storm and plug it in and fuel it up," says Joe, "but it offers a lot more power during an outage."
Your electrical panel will need to be converted to "generator ready" to use this model. This is fairly simple and can be done at most local machine shops. "It runs about $250 to have your panel cover converted," Joe shares. Power is created in your generator and transferred to your electrical panel and the converted cover prevents power from backfeeding up the line to the street where a linesman might be shocked during repair. Have an electrician add an outlet on an exterior wall, wired properly for your generator, making it easy to plug in when winter weather approaches.
"When we have an outage," says Joe, who has this type in his home, "we can select the loads we want to run, typically the propane heat, fridge and freezers, a few lights and the TV." If you have propane or natural gas appliances they can be typically handled easily by this generator as they only need power for the ignitor or fan.
"The beauty of doing a generator breaker in the panel is you can select which breakers you want to run at any given time and then make the switch as needed," he says. A 5000 amp generator will give you 20 amps while a 6500 watt model provides a full 30 amps, offering more selection on more circuits.
Whole House Automatic Generator
The top-end generator is one that will automatically turn on when the power goes out. Fueled by propane or natural gas, these models are pricey, but reliable and nearly maintenance free.
"Once the power goes out," says Joe, "the auto transfer switch senses the outage, sends a signal to the generator and it starts up. After a few minutes, once its voltage gets past a certain level, it automatically powers everything in your home. Once power is restored, the panel sends a shutdown signal to the generator and it switches off."
To keep the generator in good condition, it includes an exercise timer, starting itself every month or so to ensure the systems are functioning well. If an issue is detected, many new models can even send you a text alert that there is an issue.
The ease of this model, however, comes at a cost. "You can likely get a base model for around $5,000," he says, but it goes up from there. Installation by a professional plus gas line hook up, concrete pad and weatherproof cover add up fast and you can spend $10,000+ on the entire system. For those living rurally, however, who rely on power to run their well and are often last to get power returned, this full-service system is priceless. And, let's face it – you'll still be able to watch the Seahawks game, no matter the weather.
Interested in a generator for this season? Joe says to start by talking to local tradesmen and get bids from a few companies. "See who is the best fit for you," he says.  And, if that fit might be Joe Mathis himself, you can reach him by phone at 360-999-8993, or email Rigid Electric at rigidelectricllc@gmail.com. You can also find them on Facebook.
And, if you are in need of a home inspection – with our without a generator – give the team at Boggs Inspection Services a call at 360-480-9602. They are ready, no matter the weather.
Sponsored