You've finished your big Thanksgiving meal. Everyone is satisfied and happy and thankful for all they have. So what will your next holiday tradition be? Perhaps you have a regular routine. Or maybe you are looking to add a new one as your family changes and grows. How about adding a ride on the Polar Express or Santa Steam Train at the Chehalis-Centralia Railroad and Museum?
Starting the day after Thanksgiving and going weekends through December 17, you have several opportunities to take advantage of these local favorites.
The Polar Express
Imagine the excitement building in your children or grandchildren – or even yourself – as you talk about this fun adventure. First, you'll buy your tickets online or in the sweet little ticket office and gift shop. Of course, you know the kids will want a souvenir. And why not buy them something? Your purchase will put a big smile on their faces while at the same time supporting this non-profit, volunteer-run labor of love.
You know the kids will excitedly run around playing on the platform as they wait for their turn to board, not just a train, but the famous Polar Express! It's finally time and everyone boards the train, giggling with excitement and anticipation. First up is that old favorite in the winter – hot cocoa. Fresh warm cookies add to the cozy environment. Next, everyone is led in a rousing sing-along of traditional Christmas Carols, setting the mood even more. Finally, it's time to quiet down, to sit and listen to a reading of The Polar Express. Children are enthralled to listen to the story, even if they have heard it over and over.
Once the story is finished, there may be time for more carols before arriving at the North Pole. And then – magic! Santa Claus boards the train! He rides back with the kids, listening to their Christmas wishes. But even more special is when Santa himself gives each child their first present of Christmas, such a magical thing for little ones to experience.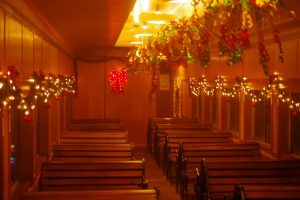 And don't worry, with two coaches each holding 55 to 57 guests, the kids are still kept entertained. While Santa is in one coach talking to the children, the other coach is keeping things festive with more entertainment and Christmas Carol singing.
The Polar Express is a jam-packed hour of fun for the whole family.
The Santa Steam Train
If you need a different time or a shorter ride, check out the 30-minute Santa Steam Train. On this ride, Santa boards the train with the kids at the station and rides along the entire time, giving out candy canes and listening to those precious Christmas wishes.
A Peak Behind the Scenes
These holiday excursions are an enjoyable experience for the volunteers as well, with eight helpers on board for each run. Another five or six are working behind the scenes to clean up and get things ready for the next run.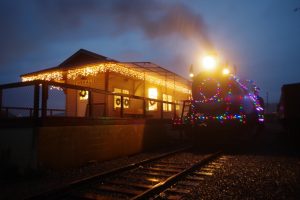 Wanda Thompson is the Chehalis-Centralia Steam Train's secretary/treasurer, as well as being in charge of the depot and special events on the train. These rides are as special to the volunteers as to the riders because of the fun that they get to share in. One of Thompson's favorite experiences was watching one very large family make a tremendous memory for their loved ones. "A family of 57 reserved a whole coach," she recalls. "The woman who coordinated it also provided all kids age ten and under with matching pajamas and nightgowns. There must have been 31 or 32 kids there. That was a really fun one."
Another sweet experience for Thompson was when a woman, her two children and her mother all had tickets for the Polar Express. "She called and needed one more ticket because she just received a foster child and didn't want to go without her. So we worked it out and got her another ticket. The little girl did not like Santa. He went by once, and then when he came back by she decided she liked him and just clung to him. That was really special," smiles Thompson.
All ages love the Polar Express and Santa Steam Train. "We've had babies as young as one week old, as well as a lot of parents, grandparents and great-grandparents. It's usually three adults per child on average," laughs Thompson. "Seniors enjoy it as well and often come by themselves."
Even if you already have your family holiday traditions, consider adding a new one. The old-fashioned fun of a steam train ride with Santa Claus will create lasting memories for years to come.
Polar Express
Schedule:
November 24 – 5:00 p.m., 7:00 p.m.
November 25 – 5:00 p.m., 7:00 p.m., 9:00 p.m.
November 26 – 5:00 p.m., 7:00 p.m.
December 1 – 7:00 p.m.
December 2 – 5:00 p.m., 7:00 p.m.
December 3 – 5:00 p.m., 7:00 p.m.
December 8 – 7:00 p.m.
December 9 – 5:00 p.m., 7:00 p.m.
December 10 – 5:00 p.m., 7:00 p.m.
December 15 – 7:00 p.m.
December 16 – 5:00 p.m., 7:00 p.m., 9:00 p.m.
December 17 – 5:00 p.m.
Prices:
Adults over 16 are $38.00.
Kids 3-15 are $28.00.
Children under two can ride for free if they can sit on an adult's lap. However, if they need a seat, a ticket will need to be purchased for them.
Santa Steam Train
Schedule:
December 2 – 1:00 p.m., 3:00 p.m.
December 3 – 1:00 p.m., 3:00 p.m.
December 9 – 1:00 p.m., 3:00 p.m.
December 10 – 1:00 p.m., 3:00 p.m.
Prices:
Everyone three years old and up is $10.00.
Children under two are free if they can ride on their parent's lap.
Sponsored