Planning school grounds is not just another job for the SCJ Alliance team. They are passionate about their work, knowing it makes a large impact on students, staff and the community. Schools are the lifeblood of a neighborhood. Many people choose where to live based on the schools and better schools often attract higher-income residents and boost property values. In fact, a study conducted by National Bureau of Economic Research found that for every dollar spent on public schools, home values increased by $20. SCJ Alliance knows this and have made it a focus to help update local schools with students and families in mind.
"We are always looking for projects that make communities stronger," says Brandon Johnson, civil engineering manager at SCJ Alliance in Centralia. "One of the easiest ways to have an impact is to make the education system better. We made a decision as a team to be dedicated to these types of projects." To that end, the firm has members of several boards and professional groups that talk about learning environments and share experiences and design standards for educational spaces. "We invest in these groups to make sure that if there is a new tool or technique out there that creates a better space for students, we will know about it," he adds.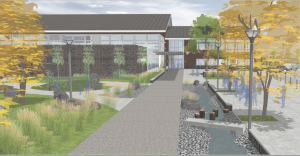 Brandon manages the newly opened SCJ Centralia office located at 212 N. Tower Avenue. Before that he worked in the Lacey office. He was born and raised in Lewis County and is a K-12 Centralia graduate. He attended college at Saint Martin's University returning to his hometown of Centralia after graduation.
"I've never gone too far," he says. "I've always liked being from a small town and I never had a reason to go anywhere else. There were some opportunities right when I graduated college and along the way career-wise, but nothing attractive enough to pick up and leave." Having lived in Lewis County all his life, Brandon loves working on area schools, helping his community grow and prosper.
SCJ Alliance has worked on many local school projects. Most recently: the Borst Avenue Project where they're engineering a walkway between the middle and high schools; Chehalis pre-K through 5 schools' site development and landscape architecture; and landscape architecture for Centralia College's new Trans Alta commons, as well as site planning and landscape design for college parking lots.
Safety First
Schools today have very different needs when it comes to safety and function than in the past. The SCJ Alliance team works hard to stay up on the needs of schools and educational trends, assuring they have the knowledge to create spaces that will work.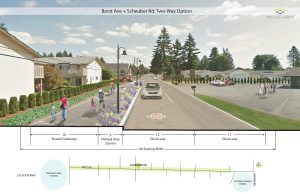 "Safety is always number one when you are involved in school projects," Brandon explains. "Next is functionality. For example, children have small legs and they see things at different angles than adults do." As a result, SCJ Alliance's landscape team makes sure none of the plants will obstruct a child's view or cause a sightline hazard.
SCJ also considers the habits of children. Brandon shares how younger kids take the most direct path from door to door, even if it means leaving a pathway or sidewalk. The SCJ Alliance team uses this information to create direct pathways between entrances with clear delineations to help students stay "on track," getting them to and from buildings safely.
This knowledge was essential in the Borst Avenue project where the SCJ Alliance team needed to understand the nature of those using the area to ensure safe travel along the nearly mile-long route. Planning included attention to how sidewalks would function adjacent to a road with 30 to 45 driveways bisecting it. "We had to create a design that is user friendly so the students keep moving, but also so that they can be seen by the people driving cars on the road or backing out of their driveway," he adds.
Increased Functionality
Having everything – site planning through landscape architecture – completed by one team creates a cohesive plan ensuring safety and functionality as well as meeting the goals of a school board and community. This was the case with the Chehalis schools project. SCJ's team approach saves the school from hiring additional partners whose designs may or may not work well with the approved site plan.
"We had to design something that could last for decades and still be functional as well as safe," Brandon says. Pathways were designed to keep students close to buildings and other common areas, and to include plenty of lighting with long sight distances.
For Centralia College's Trans Alta Commons, SCJ's landscape architects incorporated extensive hardscape in the design, paired with the landscaping, to create a space that would adapt to the needs of the college as it grows and changes. The design incorporates generous open space with large, circular, concrete multi-use plazas. They can be used by the college for almost anything – seating areas, stages, even food trucks.
SCJ Alliance's team not only creates vibrant educational spaces, but partners with local schools to help students reach their full potential. They support many educational programs including the Centralia High School Construction team, Centralia College Foundation and Centralia Christian School.
For more information on these Lewis County projects, SCJ Alliance services and partnership, visit the SCJ Alliance website.
Sponsored