If you're looking for the trifecta of dog care, then get your tail into Three Dog Night Dog Shoppe and Self Wash in downtown Centralia.

Opening its doors in May 2017, the self-dog wash and gift shop is owned by professional dog trainer Sara Gingerich, as a way to extend her training services and help dog owners make the best choices for their furry family members.
"It's one-stop shopping with dogs," said Gingerich
At the self-wash, owners can save money – and stress on their joints – by washing their dogs in the elevated tub, eliminating the need to do it at home or pay for a full-service grooming. Using natural peppermint and tea tree shampoo, the dog is put at ease in the hands of their owner, creating harmony between both parties. With a large number of dog owners living in apartments without tubs, Gingerich hopes that the self-wash will bring more pet owners to downtown Centralia.
"It's something new and fresh to the downtown. I definitely think there's a need for this," said Gingerich.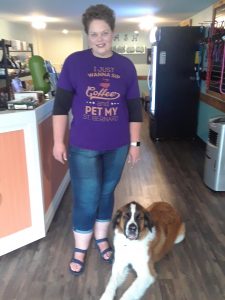 Originally from Los Angeles, Gingerich moved to Centralia 13 years ago after falling in love with the community.
"I love the community of business owners and the small-town vibe," Gingerich said. "It feels very community driven here. It feels very safe. It's a really pretty town with the buildings and the architecture. It feels like you're stepping into another time."
However, after observing the dog-friendly beach culture of the California and Oregon Coasts, Gingerich had a desire to see the same vibe in downtown Centralia.
"If you go to Cannon Beach, about 90 percent of the people there have a dog with them, and they're all walking downtown and going through shops. They're very receptive to dogs there. I think, for a lot of people, they want to bring their whole family with them, and their dogs are part of the family."
In addition to being safer for the dog than being left at home alone, the addition of pets downtown could also boost the local economy by attracting tourists.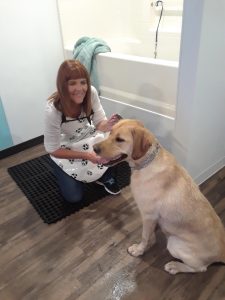 "I think when you see businesses that has a 'dogs welcome' sign in the window, I think you get a lot more people that will travel more and feel welcome," said Gingerich. "It gives a really good vibe to a community when people are active with their dogs and playing, shopping and dining."
In addition to the dog wash, owners can swing by the shop for locally sourced gifts, dog supplies and training tips from Sara. They can also pet "store manager" Snickers, Sara's rescued Saint Bernard.
A dog nutrition expert, Sara is adamant on serving only all-natural, non-GMO and locally sourced products from the United States and Canada. This includes grain-free and limited-ingredient diets to benefit pets with special dietary needs.
"There's a need in the community here for better, more holistic options when it comes to our pets," said Gingerich.
With the spike in obesity, cancer and diabetes in dogs over the past 50 years, Gingerich wants to help customers make informed decisions, and is always open to customers asking questions.
"As consumers, we tend to be persuaded by fancy packages and cute marketing techniques, and I want people to know what's in their dog's food and buy it with confidence."
Part of the trend, for both humans and pets, is a raw food diet, which eliminates additives and looks toward nature as the main source of nutrition.
"People are wanting to feed their dogs more holistically, like they would eat in nature," said Gingerich. "People are wanting to do better with their dogs. We're starting to eat better collectively as a society, and I think people want that for their pets as well."
As a dog trainer for 6.5 years, Gingerich also uses her storefront as a way to work with dog owners as a behavior coach, instructing owners on how to train their dogs.
"A relationship should be built on trust on both sides. Otherwise you have a very frustrated owner and a very frustrated dog," said Gingerich.
Of all the tips Gingerich could impart, her most important advice is: "patience and consistency are key."
While dogs are very smart, Gingerich explains, they are also very simplistic. Overcomplicating instructions only confuses the dog, In the wild, they are motivated to do work by the promise of food, and likewise, positive reinforcement with dog treats works well in domestic dog training.
"I believe the work ethic that you create with dog training should be very connected with what they do in the wild," Gingerich said.
Speaking of rewards, Gingerich feels rewarded herself when she can see the training paying off between dog and owner, and especially when she's training service dogs.
As for the storefront at Three Dog Night, Gingerich feels proud being able to provide the best service she can.
"Just being able to talk with customers and help them make informed decisions on diet, nutrition, treats and even throwing in training tips, and being able to let them have a positive, all-inclusive place is really rewarding and beneficial to me," she said.
Three Dog Night is located at 324 N Tower Avenue in Centralia. For more information, you can call them at 360-736-1213 or reach out to Sara Gingerich Dog Training at 360-888-9928 on online.