Throughout Lewis County, burger joints have long been filling our stomachs with tasty morsels of beef, each
offering unique menu items, quirky decor and the perfect place to refuel our bodies after a day exploring the wonders of our backyards. The following destinations have become must-stop dining spots when craving the ultimate burger. While there are many options for tasty burgers in Lewis County, these are some sure-to-please options.
Bill & Bea's Drive-In
Located just off I-5 in Centralia, Bill and Bea's Drive-In is a classic stop for those passing through the region or locals hoping for one of the best burgers in the state. While the drive-in itself is small, offering limited seating inside and out, the drive-through is nearly always busy, proving that residents and tourists can't get enough of this place. The menu is incredible, offering numerous burgers, incredible onion rings and some of the best flavors of shakes in Western Washington. You can't go wrong with a deluxe cheeseburger with grilled onions, a side of onion rings and a raspberry milkshake. In fact, those who have eaten here might already be drooling at the thought.
Cliff Droppers
Not to be outdone, Cliff Droppers in Packwood is another incredible burger joint – and many say the best – that is a burger lover's daydream destination. Near Mount Rainier's southern entrance and White Pass, this friendly "mom and pop" burger diner is quickly becoming a must-stop for recreational enthusiasts both local and those just passing through. During summer weekends, it isn't uncommon for Cliff Droppers to be packed, as everyone longs for one of these incredible meals. Offering blue cheese and bacon burgers, a sasquatch burger, tasty onion rings and delicious shakes, including the ridiculously tasty peanut butter shake, Cliff Droppers will quickly become a favorite. The best "hidden secret" of Cliff Droppers? When available, you can substitute elk for beef for a truly unique burger experience.
Betty's Place
While it might be cliche, given the city the diner is in, many who bite into a burger from Betty's Place will exclaim "Holy Toledo." Found in the small town of Toledo, the burgers at Betty's Place pack a big taste. The diner is small, quaint and perfect for trips while passing through or needing a meal in town. The burgers are always fresh, delicious and made with the same attention and care that has made this a must-stop burger shop for decades. What makes Betty's so great is the combination of perfectly cooked food, incredible sauces and milkshakes that will make you sit back and wonder why you haven't stopped at this place before.
Spiffy's Dine In Drive In
The burgers found at Spiffy's Dine In Drive In, located in Morton, are said to be able to fill the belly of a logger after a full day's work. After one meal here, it is easy to agree. For generations, Spiffy's has been filling stomachs in Morton. While diets have changed, the meals and decor at this classic American diner have remained pretty much the same. With delicious burgers, tasty fries and filling shakes offered in a wide range of flavors, no time in Morton is complete without a burger run at Spiffy's. Full of small town charm, the staff at Spiffy's represent the hardworking spirit of Morton, serving fantastic fare for a great price.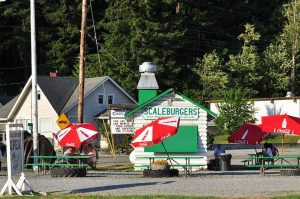 Scaleburgers
While technically in Pierce County, Scaleburgers in Elbe is literally less than a mile from the Lewis County border. Scaleburgers has quickly become one of the must-stop destinations after visiting Mount Rainier and for good reason. The Overload burger, which comes with a 1/3rd pound beef patty, two slices of cheese, two thick cuts of bacon, incredible sauce and all the trimmings is a mouthwatering masterpiece. When available, the blackberry milkshake will have you driving back time and time again. With incredible onion rings and burgers that will nearly put you in a food coma, Scaleburgers shouldn't be missed.