"The flood of 2007 was the largest in recent Lewis County history," explains Bob Willey, Amateur Radio Emergency Services Emergency Coordinator. "We had over 70 rescues that we had to take care of. That's a lot. So

afterward, we all got together to discuss how we could better deal with something like that. We reorganized and ramped up the Emergency Operations Center [EOC], added equipment, and recognized how important communication was. So the Centralia Amateur Radio Emergency Services or ARES volunteer group was started."
Willey explains that during a disaster or emergency, regular communication lines can go down. "Land lines and cell phones are designed to shut down when they are overloaded. But a ham radio can operate when all other systems are down. They can run on alternate power sources such as generators, solar power or batteries." The purpose of ARES is to be a communications system in times of disaster or emergency.
ARES is made up of volunteers in the community who have their ham radio license and a desire to help. To legally operate a ham radio, a person must pass a test and be licensed by the FCC. New volunteers don't have to have their ham radio license when they first start volunteering with ARES, but they do have to get it fairly soon after that. "We have to deploy people around the community to communicate via ham radio, and they aren't able to do that until they have their license," explains Willey.
"There are two categories of people in ARES," says Willey. Those who want to serve the community and those who want to serve, but also love the technology that comes with operating a ham radio. We look for both," he smiles.
When people are "deployed" they are sent out to do what is called Windshield Surveys. They go from neighborhood to neighborhood to find out what's wrong, where help is needed and call it in to the Emergency Operations Center. "The Incident Commander depends on information from the police and fire department, but there are only so many of them and they can only cover so much area. ARES volunteers can go out and cover additional areas."
Volunteers meet twice a month for training and education, putting in over 4,000 volunteer hours this past year. ARES also participates in event such as Summerfest and the parade, walking around in their bright yellow vests, answering questions and providing communications along the parade route. They can also be seen in action during Field Day on the last weekend end June. They set up at Fort Borst Park, talking with other ham radio operators around the country.
ARES volunteers can help with a variety of tasks from manning sandbagging stations to setting up emergency shelters. "That's one thing we have really been concentrating on this year," says Willey. "We are working with churches who have agreed to be emergency shelters if needed. We can then register people as they come in and help family members find each other. We can also let the EOC know what supplies are needed."
ARES bought an old military truck to use as a mobile communications center, and now also has a trailer that is all set up with all the equipment for a shelter operation, to go wherever it is needed. "I really enjoy working with the community and seeing a prepared community," says Willey.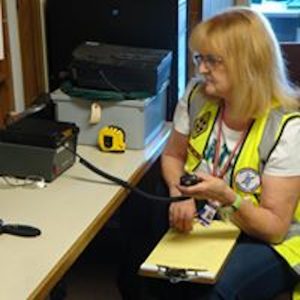 Volunteer Evelyn Dailey has been with the group since it started. "It was a way that I could give back to my community in case of a disaster," she explains. "I took CERT [Community Emergency Response Team] training, too. I wanted to be able to do my part to help provide communication for people, hopefully help them find a family member. I think whatever skills you have you should use to help give back to your community, and I have ham radio skills."
Pastor Bill Knepper of Mountain View Baptist Church joined ARES last year. "When I was in junior high I wanted to get into ham radio, but at the time you had to know Morse code, so that was a tripping point for me. Now that has changed and a friend in the ARES group got me plugged into studying for the exam. As I learned about ARES, I thought it was a great concept to take a hobby and turn it into something useful in a time of need. I am enjoying the things that we're learning and doing. I'm still trying to figure out exactly how this will all work in a disaster, but I think with a bunch of trained people, maybe we can help," he smiles.
Currently, Centralia ARES has about 23 members, but new volunteers are always welcome. "It's a great group of people, they're very willing to help out someone new," says Knepper.
To learn more, visit the ARES website.