Submitted by Centralia School District
The Centralia School District Board of Directors has approved the hiring of BCRA as architect for two new elementary schools. The vote was held during their May 4 special board meeting. BCRA joins OAC Service, Inc. as companies hired by the District to help lead the way on construction projects financed by a voter-approved $74 million bond. The new schools will replace the current buildings for Jefferson Lincoln and Fords Prairie elementary schools.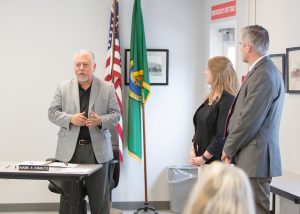 "We had applications from very qualified and attractive firms who are interested in designing our new elementary schools," said Superintendent Mark Davalos. Two firms were invited to the Districts on April 28 to meet with a committee made up of staff, board members, and employees of OAC Services. "BCRA stood out and we're proud to recommend their hire," Davalos said at the meeting.
The team responsible for Centralia's new schools will be led by Stuart Young and Heather Hocklander, Centralia's project manager.
BCRA has an extensive profile of past work in school design. They designed Salish Middle School in Lacey, Jefferson Middle School in Olympia, as well as many elementary schools in the Clover Park School District. "They're highly qualified and they have the right experience to lead these design projects," Davalos said. In addition to past projects, BCRA is currently working with Tumwater, Puyallup, and Tahoma school districts on school designs.
The next step in the District's process is the sale of the actual bonds that finance construction. "On May 9 a contingent from Centralia will head up to Seattle for the sale of our $74 million in bonds," Davalos said. "This will give us the funding to move forward. We're excited to have these projects underway and we can't wait to get our community and staff involved in the design process," he added.