It's another rainy spring day at Coffee Creek Community & Gardens in Centralia. The ducks don't mind, though, as they gleefully go about their business inspecting puddles out in the yard. Coffee Creek farmers Mokey Skinner and Ellen Russo hang up their tools after a damp morning preparing the gardens for another year of production. It's time for lunch in the Kitchen Bus, time to reflect on the day's accomplishments and plans for the coming season.
"We have a ton of starts in the greenhouse," says Mokey, "and it's a really muddy spring so we are working on putting up our hoop house so we can have some dry earth under there."
Ellen checks a couple boxes on the dry erase to-do list. The hoop house, a greenhouse-like structure which will help to expand Coffee Creek's growing season, is almost complete.
"Spring always has a lot of expenses and plastic was one of those for us this year," explains Mokey. "And we waited a little while to put up the hoop house, but I'm glad we did because that wind storm we just had probably would have torn it to shreds. It's a simple structure."
To be a farmer it's essential to be flexible and adaptable, and this year is no exception. Mokey explains that the farm is expanding by contracting. While the gardens used to be here and there, they will now be centralized in a fenced area that they expect will increase their output by five times what it was. The new fencing will prevent chickens and ducks from scratching around their tender plant starts. In addition to fencing the garden, the community just finished a large plumbing project for new irrigation this year.
All these projects make spring the most expensive season on the farm so Coffee Creek offers pre-sales to offset the costs.
"We're trying to get the C.S.A. (Community Supported Agriculture) shares out to the people now," says Mokey. "And we offer a presale on our chickens. It helps with such a small operation to have the income earlier so we can afford to grow more food throughout the season."
The income that they receive in the early season from those purchasing a C.S.A. enables Coffee Creek to grow more food, creating a symbiotic relationship. They run their C.S.A. from June through November. A C.S.A. share gets the consumer a weekly box of vegetables through October and then one special box before Thanksgiving in November. There is also an option to include eggs.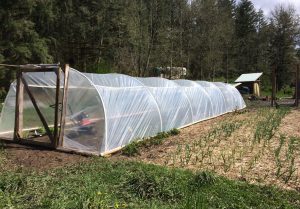 "We raise organic pasture-fed turkeys," Mokey adds. "We butcher the week before Thanksgiving so folks in the community can have fresh turkeys through Coffee Creek. We've been offering turkeys for about seven years now."
Coffee Creek is strong on connecting the community to their food in a sustainable and respectful way. And they feel that the C.S.A. program facilitates that relationship for those who are unable to grow their own produce.
"We encourage folks to pick up their boxes at the farm so that they can visit," say Mokey. "And with our C.S.A, we include a monthly newsletter to let people know what is going on here. We usually have other quantities of things that people can purchase as well. If we have a bunch of basil at the moment, they can pick up a couple of pounds to make their pesto while picking up their boxes."
In addition to vegetables and turkeys, Coffee Creek also raises pasture-fed organic chickens, rabbits and pigs at different times of the year for meat. Plus they sell duck eggs, chicken eggs and Scratch and Peck feed.
Another way to connect with Coffee Creek is at the Community Farmer's Market of Chehalis on Boistfort Street. They will be vending at the market on Tuesdays from 11:00 a.m. to 4:00 p.m. starting in June. Coffee Creek will also be a part of the new Friday Evening Farmer's Market, which is a pilot program running for seven weeks from July 14 through the end of August at same location.
You can usually find Coffee Creek at the Seedpod Farm Spring Fair with information about their C.S.A. shares and eggs for sale. And in May, they will be at the Baw Faw Spring Festival.
There are other ways to get involved at Coffee Creek too. They host WWOOFers each year and invite volunteers to come out. WWOOF is a program that connects people who want to live and learn on an organic farm with small farms that could use the help. Coffee Creek has hosted folks from as far away as Switzerland to as close as Olympia.
They also host workshops and skill shares events on growing vegetables, building hoop houses and butchering chickens.
"Everything I do, I invite folks out to learn about it because I think raising farmers is as important as raising food," explains Mokey.
Mokey and Ellen are optimistic about the future of farming. "Now we see all over the Northwest and in the C.S.A.s that there are small farms only 5 to 20 acres, even one-acre farms in urban areas, that are really producing a lot of food for their communities and actually connecting people with where their food is coming from. There are pea patches and community gardens in most towns, which is beautiful, folks are getting back to the basics, the good things in life."
To learn more or get involved with Coffee Creek, visit their website, Facebook page or give them a call at 360-807-4949.