The housing market in Lewis County is sky rocketing right now. Not only that, but the entire region is experiencing growth. This is resulting in home values rising from Seattle to Chehalis.
Many sellers may want to put their house on the market immediately to take advantage of that buyer demand, but according to experts at Boggs Inspections Services and real estate agents at Better Properties of Lacey, prepping your house before you list it will increase value and demand, and will help make the selling process quicker and smoother.
Get the most out of the market while minimizing stress by using these five tips to gain an edge.
Efficiency Upgrades
Dwayne Boggs, owner of Boggs Inspection Services, sees energy efficiency concerns on a regular basis. He recommends having a pre-listing inspection to identify areas for upgrade before you list. These include switching to a tankless water heater or ductless heat system to add value. The new systems look modern, too, adding to the appeal.
"For buyers, there is a large emphasis on home efficiency in today's market," says Nicole Braam of Better Properties of Lacey. "For a seller who's considering building, remodeling or selling a home, getting a look by an inspector to find out how to improve your home's efficiency is very important."
Roof and Gutters
A roof can make or break a deal for some buyers. An inspection to ensure no leaks and no missing or damaged shingles will instill confidence in both seller and buyer. Once your roof is approved (or repaired), remove the moss and clean out those gutters. Potential buyers will appreciate the extra bit of work you've done to make their new home move-in ready.
Safety Upgrades 
All homes are required to have carbon monoxide monitors. Save a step in your inspection process and add them prior to listing. Add an earthquake strap to your hot water heater and consider having your furnace serviced (or upgraded) prior to listing. Check outlets in kitchens and baths to ensure GFCI outlets are in place. Swapping these out is simple and ensures safety in "damp" locations. These small upgrades add up to a big boost of confidence for potential buyers and show a level of home maintenance buyers will appreciate.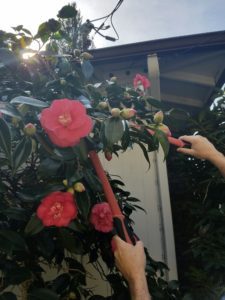 Curb Appeal
Ever heard the expression love at first sight? This applies to homes, too. Braam suggests sellers focus on making a positive first impression with these minor upgrades:
Touch up or paint your front door. Bold colors tend to grab attention.
Add or upgrade your mailbox.
Install or add new house numbers and outdoor light fixtures.
Add perennial plants, shrubs or trees for a fresh look. Be sure to keep plantings several feet from the siding and foundation.
Plant colorful flowers in pots or beds.
De-clutter your yard – always remember that less is more!
Consider adding bold and tasteful outdoor furniture to complement the home and help buyers envision themselves in the space.
Pre-Listing Inspection
Boggs Inspection Services offers pre-listing inspections, the ultimate check list for homeowners preparing to sell.
"A pre-listing inspection is valuable to both the buyer and seller," assures Braam. "The seller will be ready to list the property, be fully informed of what hidden issues may arise and have the opportunity to remedy those possible hidden problem areas prior to a buyer viewing or having his or her own inspection preformed."
"It takes all the guess work out of it – everything is addressed," says Boggs. "It's already been looked at by an unbiased professional."
The pre-listing inspection can also be shared with buyers, making your home more competitive to those looking for a problem-free transaction.
"This also could be of benefit to a buyer if they would like to use the seller's pre-inspection when considering the home," she adds. "They can avoid taking the time and expense to hire an additional inspection of their own, but rather use the seller's pre-inspection to move forward with the purchase of the home."
Even in this leading real estate market, sellers need to make their home stand out. To maximize profits while minimizing headaches, call for a pre-listing inspection from Boggs Inspection Services. Their professional assessment could mean the difference between a buyer choosing your listing or the one down the street.
To contact Boggs Inspection Services, visit them online or call 360-480-9602.
Sponsored