There was no shortage of contenders for last year's Class 2B state championship in the 100 meters. The previous season's state champ had since graduated, but the field was still stocked with top-flight contenders for the 2016 crown as the next six state placers all returned.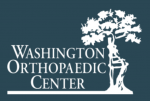 It was an impressive list – one, however, which did not include Napavine's Conner Locke. Locke was simply not just under the radar during the start of last year's track and field season. He was far more obscure.
"Nobody knew who I was," a smiling Locke said.
There was good reason for that. Locke had never turned out for track before. He was solely a football player and wrestler, and looking back he even wonders what spurred him to give track a go.
"It kind of just came out of nowhere, me wanting to do it," Locke said about turning out during his junior year. "I was asked and just decided to try it. No one really thought I was going to be this fast."
That included Locke himself who went from unknown to unbeatable as he captured the 100 state championship.
A year later and all the sprinters in the classification now know who Locke is – he's the one they're all trying to catch this time around.
"It was crazy winning the 100 in state. It was definitely something I didn't think was possible," Locke said.
Locked nipped Okanogan's Greyson Fields, the previous year's runner-up, to win the 100 state title last year in a time of 11.40 seconds. Third in the race was Pe Ell senior Josh Schulz, a rival who actually played a large role in helping Locke gain the confidence needed to excel in the event.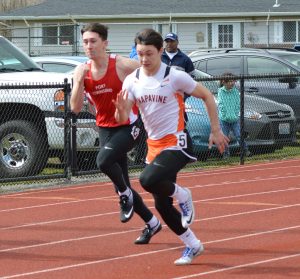 Schulz, a multiple-time state placer and one of the premiere sprinters last year, first lined up against Locke at the 2016 Lewis County Invitational. Locke had done his research prior to the meet and saw the intimidating times Schulz was putting up.
"Before the race I thought, 'I've seen this kid run and he's going to beat me,'" Locke said. "I thought he was going to get out fast and I was going to lose."
Few in attendance were as surprised with the outcome as Locke after he won the showdown, and while the medal earned at the invite was nice, the confidence the victory ignited proved to be much more valuable.
"When I beat him," Locke said, "that's when I actually started to believe I could succeed at this."
Even with the big win on his resume, Locke was still a work in progress. There's a difference between being fast and being a track sprinter, and Locke was taking the steps needed to continue his evolution into the latter.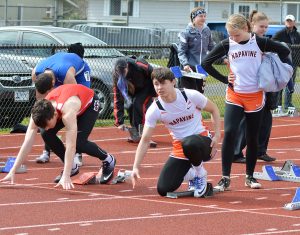 "Last year was all training on the blocks. My finish is usually pretty good, but I was having troubles with the blocks," Locke said. "My starts were completely different last year. I was coming out and going straight up. I didn't know there was a technique to it."
Remarkably, Locke was putting up some of the best times in the state while still extremely green in regards to getting out of the blocks – something that was about to change.
"I started working with a select team coach for track who was training me and helping me with the blocks," Locke said. "He showed me a way and it didn't seem right. I did it a couple of times and it felt awkward, but the more I did it, the more it made sense."
By the time last year's postseason rolled around, starts were no longer Locke's weak point. He won the District 4 championship in 11.17 – a time second only to the 10.94 he put up during a Central 2B meet during the regular season – before moving on to state.
His victory in the 100 at the state meet ended a 37-year drought for the Tigers in the event as Locke joined Ryan Thompson (1980) as the only Napavine sprinters to win a state title in the 100.
Locke is now focused on becoming the program's first two-time winner.
He opened his senior season by stopping the clock in 11.24 at the Rainier Ice Breaker Invitational – good for first place and a time which is actually faster than the last four state champions.
"I'm always looking to improve," said Locke, who was also a starting defensive end on the Tigers' 2B state football championship team this past fall. "I always see myself as my top opponent. So I am always trying to get better."
The effort has certainly not gone unnoticed as Locke, who simply elected to try track on a whim, is now drawing the attention of several colleges.
"My junior year I was getting calls (from colleges) asking about me," Locke said. "I never expected any of this. Letters started coming in. It's a complete surprise."