"When a woman invests in herself, what she's saying is, 'I'm worth it,'" Annette Rivers said. "When I can make women beautiful on the outside, it makes them feel beautiful on the inside."
Annette knows about creating beauty and in fact does it professionally. She got her start as a hairdresser and esthetician in 1984. It took her just a year before deciding to expand her services and trained to become a certified electrologist for permanent hair removal as well. Four years later, she took another leap and added permanent makeup to her skills. The latter was a brand new idea in Lewis County at the time.
"I think I was only the second or third technician in all of Washington State to do permanent makeup," Annette said. "It was new at the time but it just made sense," she said, adding the convenience for women is remarkable. Women are busy, she explained, and for them to be able to get out of bed with much of their makeup already in place is a huge convenience.
"I have done thousands of procedures," Annette said. "And at that time (in the beginning), there was no social media, it was all word of mouth," she said.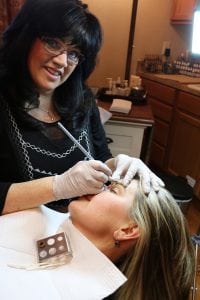 Annette said she offers free consultations, but most people who call for an appointment have already done their research and are ready to proceed. Once past the consultation stage, Annette works with her client to take "before" photographs, decide eyebrow shapes and choose the color. After the permanent makeup procedure is finished, the client leaves with some aftercare instructions consisting of keeping the area dry, an oil to aide in healing and a minimal amount of care. They then return in four to six weeks for any necessary refinements.
Depending on the makeup to be applied, Annette uses different techniques. For eyeliner, she offers an eyelash enhancement that she uses to fill in between the lashes to create the illusion of thicker, darker and completely full lashes without looking lined or obvious like makeup. She also offers the technique of a fuller shaded eyeliner and also the look of liquid eyeliner. You can choose from an array of color from a smoky brown, intense black and even fashion colors.
For eyebrows, the microblading technique is still pretty new to the industry. "It's been popular for the last few years; it's really made permanent cosmetics come alive," Annette said. "With microblading, I can create the fine hair strokes in an eyebrow that makes it look believable." Another eyebrow technique offered by Annette is the ombre, or powder brow, which looks more like a penciled eyebrow with softer edges.
Full lip colors are also available. Permanent lip color can give fullness and definition to the lips, as well as correct an uneven lip line. It can add color to pale lips and minimize the appearance of fine lines and wrinkles. Many shades of color are available from a natural lip enhancement to a more dramatic look.
Annette said she used to see middle-aged to older women as clients because as women get older, they tend to lose their eyebrows and lose color in their face. However, the last couple of years, she's seen an increase in women in their 20s and 30s. "A lot of that is for convenience, they're busy women," she said.
Allison Halpin, 42, of Kalama is one of those busy women. She recently had her follow-up appointment for her eyebrows tattoo. She said she had her first tattoo in November when Annette applied her eyeliner. Then she was back in January for her eyebrows. Allison said her mother, who lives in South Bend, had previously had cosmetic tattoos by Annette. Therefore, when Allison wanted to give it a try, she naturally looked to Annette.
"I knew I wanted to have it done but I was nervous, I'd never had a tattoo before," Allison said. "Now I'd do it again in a heartbeat."
Annette said she likes the challenge of providing permanent makeup and has made sure she's trained under some of the best educators out there. "The education is important for me. I am constantly improving," she said. "I push myself to be the best I can be." She explained the industry has really evolved in the 27 years she's been in it. She is quick to point out, though, the lack of requirements demanded from the State of Washington is lacking. "Do you know that even though permanent cosmetics is licensed through the State of Washington, there is no requirement for education?" she asked. "Anybody can be licensed to do permanent makeup."
She went on to say that other than an online bloodborne pathogen class, there are no educational requirements whatsoever.
But, she said, even those who seek out education because they want to do a good job are well behind her in the education arena as most of the courses out there are just two-three day courses. "Even with my years of experience as a permanent cosmetic technician, I did 10 days of education just last year alone," Annette said.
She has seen the results of some work by the uneducated and unprepared cosmetic tattoo artists firsthand. In fact, she has had a lot of great successes in working to correct the cosmetic tattoos done by inexperienced technicians.
Annette founded the Courtyard Salon and Spa with her original business partners back in 1997. The other two have retired, leaving Annette as the sole proprietor. The Courtyard is a full-service salon with 10 different technicians, ranging from an aesthetic facial care to massage therapy to lash extensions and the new Lash Lifts. "There's a lot of talent here," she said. "We stay educated." She added that they often bring education in to the salon for the technicians as well as have them attend outside training. "The girls are very talented and are very serious about what they do," she said, adding they have a special focus on special occasion services such as bridal hair and makeup.
Courtyard Salon & Spa is located at 1537 Kresky Avenue in Centralia. Annette can be reached at 360-880-9519 or the salon in general at 360-623-1940.