Centralia senior Hodges Bailey, a starter on the Tigers' boys basketball team, and Winlock senior Hannah Randall, a member of the Cardinals' girls wresting squad, have been selected as the Community First Auto Group Athletes of the Month for March.
Hodges Bailey, Centralia Basketball
Bailey closed out his Tigers' basketball career doing what he does best – shredding opposing defenses and lighting up the scoreboard.
Bailey guided Centralia to the regional round of the Class 2A state playoffs for the first time since 2015 after breaking the 2A Southwest District IV tournament scoring record, finishing his four games with a combined total of 127 points.
He began his record-setting offensive outburst by scoring 26 points in an opening round victory over Columbia River.
Bailey, the co-MVP of the 2A Evergreen Conference, then put up a tournament record 42 points in a semifinal loss to eventual district champion Mark Morris. His tally, which included eight 3-pointers, bettered the previous tournament benchmark of 35 points set by North Thurston's Landon Rushton in 2012.
Faced with elimination, the Tigers upset EvCo champion Tumwater, 57-52, in a loser-out contest with Bailey scoring a game-high 23 points. Centralia had dropped six straight in the series to the Thunderbirds before a big fourth quarter from Bailey reversed that trend.
Bailey scored 11 points in the final frame, helping the Tigers erase a 19-point deficit to end Tumwater's season.
Centralia capped the district tournament by knocking off Columbia River for a second time, getting 36 points from Bailey, to wrap up the No. 3 seed.
Bailey's district tournament point total of 127 points easily surpassed the record of 91 points set in 2012 by North Thurston's Ben Broeker.
The Tigers' incredible playoff run came to an end in the regional round when the lost, 73-58, to Prosser. Bailey ended his senior season by scoring a team-high 20 points in the loss.
Bailey finished the year with 638 points, averaging 24.5 points a game for Centralia, which finished the season with a record of 17-8.
For his career, Bailey finished with more than 1,200 points a remarkable feat considering he missed most of his junior campaign with an injury.
"It really is something," Centralia coach Kyle Donahue said. "He didn't play much last year because of an injury. He also didn't have a freshman season here because he transferred in before he was a sophomore. So you're talking about hitting that mark in basically two seasons."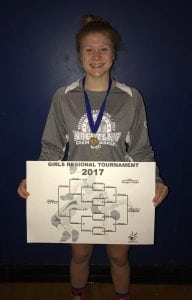 Hannah Randall, Winlock Wrestling
Randall became just the second Winlock girls wrestler to place multiple times at the state tournament after picking up a sixth-place finish in the 140-pound division to close out her senior year.
Randall, who also placed fifth as a sophomore at 145 pounds, joins Rachel Archer as the only Cardinals to accomplish the feat. Archer was a four-time state placer and a three-time state champion, winning the 103-pound title in 2011 and the 106-pound crown in 2012 and 2013.
Randall's trek toward the record book began with an impressive performance at the sub-regional tournament where she won all three of her matches by pinfall.
She continued to dominate the competition at the Regional III wrestling tournament, again winning all three of her matches by pins.
Her three regional triumphs totaled a combined 2 minutes 31 seconds, highlighted by a 42-second win in the championship round over Union's Krista Warren.
Randall opened the state tournament with back-to-back pins, giving her eight consecutive pinfall victories to open her postseason run.
She defeated Eastmont's Flora Morrow (1:00) in the first round and Rogers of Puyallup's Gabriellah Howell (1:04) in the quarterfinals to advance to a semifinal showdown against Sienna Ramirez of Lakes.
Randall fell in the semifinals, but rebounded from the defeat to pin Othello's Kaylee Martinez in 3:32 to secure sixth place.
"Hannah had a great senior season with the team. She wrestles with a ton of heart and is a fierce competitor," said Winlock coach Ryan Arnold. "We are extremely proud of what she has accomplished during her time with the program and has been an inspiration for younger wrestlers that are on their way up."
Community First Auto Group will be selecting an athlete of the month during the school year with all recipients being entered into a pool for a scholarship opportunity. The Athlete of the Year will be chosen at the end of the year with one male and one female student athlete receiving $500.
Sponsored