It's been a long winter. Mud from the rain and melted snow tracked up on your sidewalk, your deck, your driveway. Gray blotches of dirty water splashed onto the siding of your house. But now we're heading into spring, and you're ready to clean things up. You want it done well, and you want it done right. You know that you don't have the equipment nor the knowledge to make sure you use the correct cleaning solutions to protect your property. That's where Calypso Window Washing LLC can step in and take care of everything for you.
Window washing is really the root of what Calypso is. "We started with window washing about six years ago," explains owner Cameron McGee. "We added pressure washing about two years ago and have upgraded to heavier commercial equipment." Pressure washing can be used to clean sidewalks, patios, driveways and siding. "We get the least requests to clean decks, and the most to clean patios."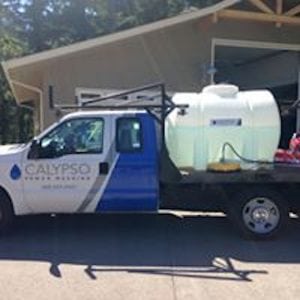 There is a lot to know about pressure washing in order to do it correctly. For instance, there are different ways to do it. "We soft wash, which is low pressure and chemicals, to clean siding and composite roofs. It's safer for vinyl siding," explains McGee. Vinyl siding can get a chalky look if a regular pressure washing system is used. Soft wash also kills moss and algae and removes stains on roofs.
Calypso typically also cleans gutters as part of roof and siding cleanings. They also recommend having windows cleaned after a pressure washing. "Whether they have us clean their windows, or they have other people they want to do it, we still recommend it because there will be water splashed on the windows, and they don't want to leave it sitting there," says McGee.
"A lot of people don't realize that if they clean their windows with a pressure washer, that breaks their warranty," says McGee. "It's something we're very aware of. We try to take as much care of people's home and property as possible."
McGee also says they even have the ability to carry their own water if they need too. For instance, if there is no water available or the water pressure at the home is very low, Calypso can carry up to 500 gallons of water. "That's easily enough to do the average home," assures McGee.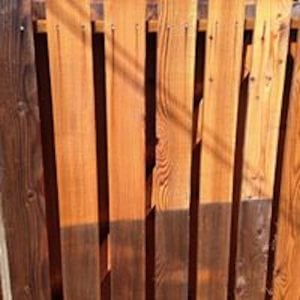 The window and pressure washing "season" runs from about March to November. "Although this past year we had some work into December, which was a little unusual," admits McGee. "But we really have to shut down in winter because everything is attached to the truck and can freeze. Plus if we're out washing a home and things start to freeze that can create a mess and a liability at the home."
Calypso can clean most any home or business. "Pretty much anything under four stories, if we can safely access it," says McGee. "We clean skylights as well; that's a question we get asked a lot."
You might wonder if there can be too many windows in a home for Calypso, but what they've done might surprise you – Calypso once washed 1,100 window panes in a single home. It took two days, about 26 hours. "It had French panes and skylights. Every window had 12 panes," McGee says with a laugh. The most windows they have washed for a commercial building had 600 panes. "But they were a lot bigger than the French panes."
Calypso also has smaller commercial accounts that have as few as three panes. "We have a frequency-based discount for places like doctor's and lawyer's offices, for example. We charge a $30 minimum to cover the time of getting there, setting up, cleaning and packing up," explains McGee.
Calypso has two power washing specialists who go out on jobs together. "We will be hiring shortly for power washing, lawn care and window cleaning," says McGee.
There are certain characteristics McGee looks for in the staff he hires. Employees need to be able to pay attention to detail. They need to be personable and able to hold conversations with clients. They need to be able to answer the questions a client may ask. But most importantly, they need to be accountable. "If our employees do something incorrectly, especially employees who are learning, we want to know. We want to make sure that if there is an issue that we make it right for the client."
Give Calypso a call at 360-269-4947 to schedule your outdoor spring cleaning and be ready to welcome spring to your home.
If you are interested in working for Calypso, review the required characteristics above and send your resume in via email to calypsowindows@gmail.com
Sponsored