Wyatt Stanley and his Napavine teammates were finally able to get the sour taste of how the last two football seasons ended out of their mouths.
Stanley tossed a pair of touchdown passes and ran for two more scores as the top-ranked Tigers capped an undefeated season with a 34-16 victory over Liberty (Sprangle) in the Class 2B state championship at the Tacoma Dome.

Napavine (14-0) had lost the previous two title games by a combined five points.
"Last year, we came up short. We were leading in the fourth quarter," Stanley said about the Tigers' 36-34 state championship loss in 2015 to Okanogan. "This year, we were up 18 with six minutes left and I was still worried sick. So, to be able to get it done this year, there's no better feeling."
Stanley threw for 163 yards on 15 of 27 accuracy and carried the ball 17 times for 39 yards to close out his spectacular high school career.
It marks the third state title in program history. Napavine also won the 2B championship in 2008 with a 28-24 win over Asotin and the 1B title in 1976 by defeating Prescott, 74-60.
"This is not only a huge win for our football team, but a big win for our community," Stanley said. "Our community was behind us all season. Without them I'm not sure we would have been able to get it done. It's a pretty special event not just our football team, but our community too."
The Tigers also finished second in state during Stanley's sophomore season, falling to Okanogan, 17-14.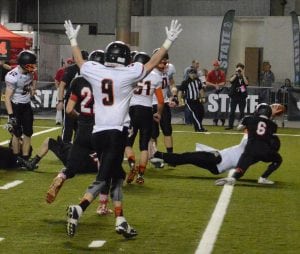 "We've been here three years in a row now," Stanley said. "Before the game, guys were coming up to me and telling me this was our year. We never gave up. Guys just did a good job of extending plays, and I found a way to get (the ball) to them."
Never was that more true than in the third quarter when Stanley turned a potential momentum-swinging play for the Lancers into a big gain for his own squad.
Faced with a third-and-16 from the Tigers' 33, Stanley watched as the ball snapped over his head. The senior finally re-gained possession at the 15, escaped a pair of would-be tacklers and fired the ball down field into the waiting hands of Mac Fagerness.
The play went for 44 yards – easily the longest play of the game for Napavine, which had only one other play in the game go for 20 yards – and set up the Tigers' second touchdown of the half.
"I almost took off with it," Stanley said about his initial thoughts after securing the loose football on the big pass competition, "but I saw Mac waving his hands. I just threw it down there and he made a great play."
Two plays later, Stanley bullied his way into the endzone on a 7-yard run to put the Tigers up 27-10.
"He'll get it to us," Mac Fagerness said about Stanley's throwing ability. "Honestly, we just have to put our hands up and catch it. He'll place it right there for us."
Trailing 3-0, Napavine took the lead for good when Stanley hit Sam Fagerness on a 13-yard scoring strike with 3 minutes, 14 seconds remaining in the first quarter.
Cole Vanwyck pushed the Tigers' lead to 14-3 on a 20-yard TD run with 6 1/2 minutes left in the first half.
Liberty was able to cut the deficit to 14-10 just before the intermission after Chase Burnham hauled in a 22-yard touchdown pass from Garrett Rogers.
The Tigers scored on their first three possessions of the second half to break the contest open. Stanley scored on third quarter runs of 4 and 7 yards, then hit Jordan Purvis on an 8-yard TD pass midway through the fourth to produce the game's final score.
"At half time we just said, 'Stick with the game plan.' We thought it was good in the first half. Our guys battled and never gave up," Stanley said. "We're not very big and for our guys to come out here and battle against a bigger team, a more physical team and come away with a state championship is pretty special."
Noah Lantz finished with three catches for 52 yards, while Mac Fagerness had two grabs for 49 yards. Both added an interception on defense.
Vanwyck ran the ball seven times for 37 yards. Conner Locke paced Napavine's defense with six tackles and 1.5 sacks.