The Port of Centralia was established in 1986 to create opportunities through economic development that provide jobs and tax revenues to the local economy while improving the quality of life for citizens of Centralia and Lewis County. Celebrating its 30th anniversary this year, the Port has grown to become the largest employment center in Centralia and it continues to grow and provide benefits to the community around it.
"Our master-planned parks and mixed-used development are the result of the Port Commission's goal to establish the premier industrial site in Lewis County," says Kyle Heaton, Executive Director of the Port of Centralia. "These industrial campuses create the opportunity to diversify the economy and provide jobs for the local workforce."
Park I was the original development. In 1990, Rogers Machinery Company, Inc. became the first tenant and they are still in operation there today. The Port expanded in 2003, constructing Park II north of Park I along the I-5 corridor. Park II accommodates the Port's largest tenants.
The Port is home to a variety of businesses, including manufacturers, distribution centers, telecommunications companies, printers, administrative offices, health services and even a brewery.
Ports are extremely important to the local economies that surround them. They give businesses incentive to come to the area, which means more taxes and jobs for the community. Located just two miles off I-5 with rail service through Union Pacific, Burlington Northern Santa Fe, and Puget Sound and Pacific Railroad, the Port of Centralia has a prime location to draw tenants. But that's not all.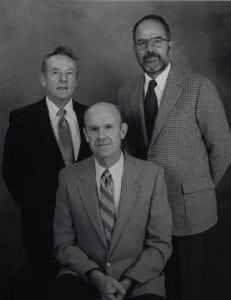 Parks I and II at the Port of Centralia offer sites ranging from one to 100 acres with options to land-lease, build-to-suit and outright purchase.
"Creating, maintaining and providing access to outstanding infrastructure is one of the Port of Centralia's top priorities," Kyle says. "The Port strives to make sure businesses have what they need to succeed." This includes installing top-of-the-line roads and other amenities. They have electricity capabilities to meet nearly any demand and even a Foreign Trade Zone designation.
Finally, they have several tax benefits for their tenants, including low interest Industrial Development Revenue Bonds, no state and local income tax or unitary tax provisions on corporate profit, no local B&O taxes, and eligibility for a variety of other tax programs.
By the Numbers: How the Port Helps the Community
Park I generates $430,000 in taxes annually that help fund the Centralia School District, fire safety services, library system, the City of Centralia and Lewis County. Park II generates over $1.7 million in taxes that go to the aforementioned agencies and services, as well as to Lewis County roads.
Currently, there are 32 businesses providing more than 900 jobs to the local economy that reside in the Port of Centralia. Aside from the obvious boost to the local community these jobs provide, they also generate $2.2 million in annual tax revenue.
The Port is an active member of the Centralia-Chehalis Chamber of Commerce and through the Chamber they support a number of community programs, including sponsoring Top 25 Centralia High School graduating students who wish to attend the Annual Rob Fuller Scholarship Luncheon. Individual commissioners and Port staff also support local nonprofit organizations with personal contributions.
The Future: Centralia Station
The port is celebrating their 30th anniversary with a rebranding, including a new logo and website that will be launching soon, and the continued development of their newest park, Centralia Station. Centralia Station is a planned mixed-use development that will include office, tech warehouse, and commercial space as well as medical facilities, community college facilities and athletic fields, restaurants, retail space, and public recreational space.

The recreational space will include sports fields and hiking trails that will create new outdoor opportunities for the community. Centralia Station's regional stormwater facility will also serve as a practice facility for the women's soccer program at Centralia College.  The new development will be a big boost to the local economy in terms of both tax revenue and job opportunities.
"Once opened, the businesses at Centralia Station will employ 535 people in Centralia (698 in the entire local economy), earn over $118 million in annual sales, and pay almost $7.1 million in state and local taxes," Kyle says. "Over its first ten years, Centralia Station would pay the present-year equivalent of nearly $5 million in property taxes."
Phase 2 of the stormwater facility is currently under construction. Construction of the Centralia Station development is scheduled to begin in 2017.
For more information, visit the Port of Centralia's website or call 360-736-3527, or view a video about the Port of Centralia's 30th anniversary.