Winlock Improvement Network (WIN), founded in May 2015, is a non-profit organization set on revitalizing the city. In 2016 alone, WIN helped local businesses with construction and interior design work, put on a farmers market and Labor Day picnic, worked to improve Internet service provider options and connectivity issues, and supported local organizations with fundraisers ranging from car washes to selling food to hungry cyclists during the annual Seattle To Portland bicycle ride.
WIN holds their meetings every other Tuesday at 6 p.m. to discuss current and future plans for the city, as well as answer questions and examine concerns from residents. Membership is $12 per year, and sign-up forms are always available at the meetings.
At the October 4, 2016, meeting at Guadalajara Family Mexican Restaurant, the primary item on the agenda was the first annual Saturday farmers market that WIN helped organize, which ended this past September. Market volunteers and vendors alike were in attendance, and gave their opinions and comments about the inaugural season and what they could do to reach a wider audience for the next season.
Dylan Jones is a member of WIN and a market vendor, and he made sure several other produce vendors attended the meeting in order to get their opinions regarding Winlock's market. "Having worked at other farmers markets, the challenge that we're going to have for next year is how do we grow, and with whom do we grow. Without the medium- and large-sized farms to anchor the event, I don't know if we're going to be able to enhance the foot traffic."
For the next hour, WIN members, farmers market vendors, and first-time meeting attendees engaged in a discussion on how to enhance the market for the 2017 season. The dialogue was very cordial, with nobody talking over somebody else, or a faction of community members immediately dismissing ideas and suggestions.
Several ideas and suggestions were proposed, including combining forces with farmers from Napavine and Toledo, a "street team" that goes out on foot with flyers and lets the residents know in person about the market, and utilizing advertising space close to Exit 63. Another popular suggestion was to move the market to a vacant space of land across from the Cedar Village IGA known as the Jaxon property.
Cheri Mitchell, Vice-President of WIN, explains how the group acquired the grounds. "Use of the Jaxon property was donated by written agreement by Jaxon Investors for a certain value per month for use by us. When we acquired it, it was a mess, so we bulldozed it, cleared the property, and have kept it mowed and clean this year." WIN helped the community in a big way by using the Jaxon property as a parking lot during the 2016 Egg Days festival. "We had to turn away cars."
One of WIN's more generous measures is the support and promotion of local businesses. If someone wants to set up shop in one of the available storefronts, but doesn't have the skills or capital to paint the walls or fix the overhead lights, several members will go out of their way to help out. This year, WIN members added a new coat of paint to the exterior of the Rowdy Rooster Deli and thrift shop, and helped move Bark Avenue Grooming into a larger building. When the proprietors of Lisa's Diner in Onalaska wanted to open another location in Winlock, WIN President Fred Terry helped remodel their space.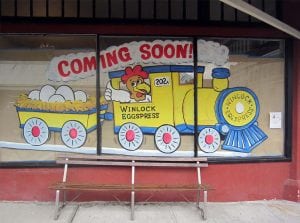 Toward the end of the meeting, Andrew and Dawn Mullen informed the group that they were looking for community members to help out with their new business, Winlock Eggspress, a "quick-service breakfast restaurant." Shelving and tables had to be assembled, in exchange for pizza and beer. They had no shortage of volunteers at the work party later that week.
"We're really trying to promote these businesses and help them get them on their feet," says Fred. "I got a comment once stating that they wanted to see how long somebody can last, and if they don't go under, then they're going to be in support. We've got to change that, we need everybody to support businesses and be supportive so we can keep them. That's what we're looking for."
As if the above accomplishments aren't enough, WIN has several events and initiatives lined up for the rest of the year, including a community pumpkin patch where elementary school-age kids can receive a pumpkin for free, and illuminating downtown Winlock with Christmas tree lights for the holiday season. The enthusiasm and take-charge attitude of the members is apparent, and there are no signs of slowing down.
"We had problems with lack of participation or lack of cooperation between everyone," says Cheri. "Since WIN was formed, that has changed. We decided that we needed to go to the various organizations to give input over certain decisions. Some of our members have ventured out to the City Council, two of them went to the Parks Board, I went to the local Lion's Club, and now we can see what's going on inside of those organizations, and we can see if we can influence the decisions they have made regarding the progression of our town, rather than looking from the outside and saying 'How did they do that?'"
If you are interested in joining Winlock Improvement Network, visit their Facebook group for more information.