"I love helping women know they can wear nice fabrics. It takes just as few minutes to look nice," explains Cheryl's Attic owner, Cheryl Parker.
Parker moved to Lewis County in October of 1990 when her husband had a job transfer. "There was no housing available then," she reminisces. "We had to live in a motel for almost three months." But they eventually found a house and a home in Lewis County.
Parker worked for several years in downtown Centralia managing other businesses, one of which was Oly's Wine and Gift, owned by Ron and Carol Nelson. When Parker thought about starting her own boutique, they were very supportive and encouraging. She then opened Cheryl's Attic in the upstairs loft of Oly's Wine and Gift.
Later she moved to a space in Tumwater and was there for almost five years. She started thinking about returning to Centralia when fate stepped in and arranged it all for her. On one Tuesday, she went to the Tumwater location and was informed that they were downsizing and she would have to move. On the way home that day she saw the vacant storefront on Main Street and stopped in at Eubank's Glass to inquire about it. They informed her that it had only been vacant a week and was hers if she wanted it. She did, and she and her husband set about getting things ready.
Parker wanted it to be a fun, unique boutique, so she and her husband used old doors to make almost all of the display areas – sales counter, closet, table and a planter box. "We had some long days," she says with a smile. But she did it, and one week after learning she would be leaving Tumwater, she was open in her new Main Street location.
When asked how she chose to sell clothing, Parker has an unusual answer. "Most people get into something because it's their passion. Selling clothes isn't my passion, but people are my passion, and I love making people happy. And I think it's important to look nice and it should be fun, that's why I have the sign on my door saying, 'Life is too short not to wear something fun.'"
"Often women will come in and think an article of clothing is too dressy, but things can be paired so easily. So much can go with jeans, it doesn't have to be just for special occasions. I like to help women put things together so if they want to bring in something out of their closet, I'll help them match it," Parker says. She also encourages women to text her about their clothing questions or if they see something in the window but don't have time to stop.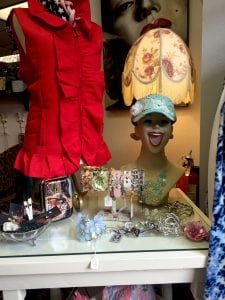 "I love seeing their response when they feel good in something they are trying on. Body language says it all. They'll kind of slouch when they don't like it or aren't comfortable in what they're wearing, but stand completely differently when they like it. I love seeing someone feel good about how they look," she says. "She has to want to wear it. I won't try to push a woman into buying an article of clothing that I can tell she really doesn't like."
Cheryl's Attic also offers the old-fashioned concept of layaway. "I started it thinking about people on a tight budget. I knew what it was like to want something, but not quite be able to afford it all at once."
Parker admits her prices may be higher than box stores. "I can't compete with the stores that sell like 25 tops for 14 dollars," she laughs. But she has what she calls "investment pieces." "I really like finding the fun things. That being said, they are meant to be worn and enjoyed, not being stuck in a closet," she advises.
One confusion she would like to clear up is the impression that the clothing is used because of the word attic. But it's all new clothing. She travels to California and Las Vegas to buy and only purchases two to four of each item. That's another purpose to offer layaway. "If you see something you like and don't have the money right then, you should put it on layaway because it could be gone when you come back," Parker explains.
"Running a retail store isn't easy," Parker says. "When I was at Oly's Wine and Gift, it was doing really well, then the economy tanked. It really hasn't picked up to the same level yet. But I'm committed to this." Parker also maintains two side jobs to help make ends meet.
"It really is word of mouth. People know they can come in get an honest opinion, have a fun experience and get a quality piece of clothing. And my favorite thing is when someone tells me, 'Every time I wear this I get a compliment'," says Parker.
Cheryl's Attic
503 W. Main St.
Centralia WA 98531
360-324-4300