Historic Cheney Stadium, the home for the Tacoma Rainiers, the Triple-A affiliate of the Seattle Mariners, has had plenty of all-time greats play there.
Names like Reggie Jackson, Gaylord Perry, Mark McGwire and Alex Rodriquez have made appearances at the park.
This summer Felix Hernandez, Seattle's 2010 Cy Young Award winner, made a rehab start with the Rainiers. It was a homecoming for King Felix. He had pitched there during the 2005 season, earning Pacific Coast League Rookie of the Year and Pitcher of the Year honors, before being called up.
That's just a small sample of the players who have played at Cheney Stadium. It certainly is a prestigious list.
And here was Lane Douglass and his Bowers Baseball Club teammates stepping out onto the same diamond, mitts in hand, ready to play.
Instinct kicked in and they did the only logical thing they could think of.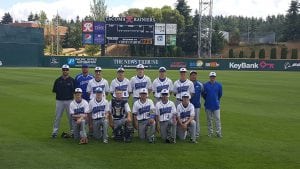 "Everyone took out their phones and started taking pictures," said Douglass, an incoming sophomore at W.F. West High School. "It was unreal and by far the nicest place we've ever played at. It was truly an honor being able to play there."
Once the giddiness subsided and Douglass and the Bowers Baseball team took the field, the squad was all business.
The Chehalis-based Bowers Baseball Club kicked off the summer by capturing the USSSA/GSL 16U state championship with a dominating 18-2 win over the Kent Bulldogs at Cheney Stadium in late June.  Even more impressive is that the team typically plays 15U.
In addition to Douglass, the team is comprised of fellow W.F. West students Jett Bowers, Bryer Fuchs, Daniel Fagerness, Dillon Smith and Gabe O'Neil, a trio of players from Puyallup's Graham Kapowsin High School in Dylan Morris, Thomas Wheeler and Tyler Wheeler, Montesano's Dakoyta Resigner and Aberdeen's Kylan Touch.
"It was just a great group of young men to work with," said head coach Jeff Bowers. "The majority of these guys have played together on this team for the last four years. It's just great to see all their hard work pay off. It wasn't always easy for them."
The Bowers' squad certainly made things look like a cakewalk against the Kent Bulldogs, a team from the Seattle Elite Baseball organization, in the championship finals, scoring two runs in the first inning, three in the second and 10 in the third to overwhelm the opposing.
"We just wanted to go all out in that game. We knew we didn't have too many (tournaments) left together as a team and we just wanted to put it on them early," said Douglass, who is primarily a catcher, but also plays center field and second base on occasion. "After that first inning, we had a lot of confidence."
Douglass collected two hits and three RBI in the championship game. Fagerness and Jett Bowers each drove in two runs, while O' Neill had two hits and an RBI. Every W.F. West student had at least one hit in the rout.
"We pride ourselves on our defense and pitching," said Bowers, whose lineup pounded out a gaudy 18 hits against the Bulldogs. "But this team can hit. Every one of them, one through nine, can swing the bat."
The team ran roughshod through the tournament's competition, outscoring its opponents a combined 87-12 over the six games, which saw the opening rounds take place in Centralia and Chehalis before moving to Tacoma for the finals.
Bowers Baseball Club faced its stiffest competition in the early rounds when it defeat TC Twins of Chehalis, 8-4.
After that game it became an avalanche of lopsided victories. They knocked off the Seattle Waves, 15-0, and The Hit Factory, a combined all-star team from Singapore, 10-1, before hammering Sumner's PC Diamond Jaxx Mantle, 13-3, in the semifinals to punch their ticket to Cheney Stadium.
"Teams will usually have 18 or 19 players. We only have 11 on our roster and only 9 were able to play in this tournament," Bowers said. "I want them to be able to play multiple positions. Almost all of them are pitchers for us. In the state finals we used five pitchers. Playing different spots helps them improve as players."
Bowers Baseball Club capped its four-year run by finishing third at a tournament in Puyallup in late July.
"When Jeff said, 'This would be the last time we all play together as a team,' it really hit me," Douglass said. "We've played so long together and worked so hard to improve. It was tough when you realize it ended, but we will always have that state championship."
While the team disbands, several of the W.F. West players will still get an opportunity to play together for the next three years as Bearcats.
"We're looking forward to next spring and putting on that (Bearcat) uniform," Douglass said. "Most of us are only going to be sophomores so there's a lot of baseball left. Hopefully, we can continue what we did with this team over to high school baseball."