Death is a part of life. It's an inevitability that we cannot deny, whether it comes too soon or at the end of a life well lived. And, for most of us, we will need a helping hand when it comes for someone we love – a hand to hold, to help with the details, to manage the schedules, to smooth the transition.
For over a century, that helping hand has been extended by the compassionate and competent people at Sticklin Funeral Chapel. Their long experience in Lewis County helps them understand and accomplish the steps to be taken after a death as well as how to help a family cope with the emotions that accompany a loss.
It was 126 years ago that founder Louis Jacob Sticklin arrived in Centralia and set up his first business, a cabinet and coffin making company located on Park Street in Chehalis. Shortly thereafter he began offering mortuary services seeing the need in the rapidly growing community. The entrepreneur was characterized in his community as compassionate and caring and the 1914 Chehalis Bee-Nugget described him this way: "Perhaps no other man, not excepting doctor or minister, has officiated at so many sorrow stricken homes and performed the duties of sympathy and brotherhood as L.J. Sticklin, pioneer undertaker and funeral director."
In the early 1900s, L.J. Sticklin's sons, Hugh and Charles, took over the business, expanding upon the success of their father. They opened a location in Olympia, now Mills and Mills Funeral Services, and continued to serve the Lewis County community. The business was passed through two more generations of Sticklin sons until the mid-1960s when Don Sticklin, the great-grandson of L.J. Sticklin, and his wife Lois dedicated themselves to reinvigorating the business. Their work was characterized by a sense of compassion for their fellow man and followed the Sticklin dream of creating a modern, up-to-date facility to serve the community which had been so intimately connected with the growth of the family business. When Don passed away in 1973, Lois obtained her funeral directors license and carried on in his stead.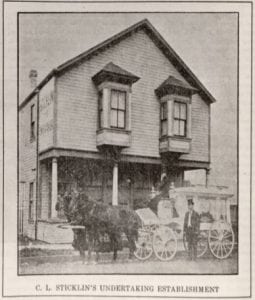 Today, Sticklin Funeral Chapel works tirelessly to meet the end-of-life needs of Lewis County residents. The caring staff are available 24 hours a day, 7 days a week to provide guidance and understanding when a family has lost someone they love. Julie Carter, administrative assistant for the company, shares, "The quality of people we hire is what makes the big difference for the families we serve. The high standards compassion, empathy, professionalism – our staff just go above and beyond."
Sticklin Funeral Chapel offers full funeral home services including cremation, burial, transportation, paperwork services and notifications. In addition, they provide pre-planning services for families wanting to ensure the details, and costs, are taken care of well in advance. The staff understand and can handle the details of death so families can focus on the grieving process and remembering their loved one during a difficult time.
Daniel LaPlaunt serves as the manager as well as the licensed funeral director and mortician for Sticklin and has a skilled team of caring staff working side by side with him each day. Carter shares how the business has "always been locally managed and operated ensuring those caring for your loved ones are members of the community and are there to help."
Carter personally assists families as they navigate the process after a death. She shares that one of the most rewarding aspects of her job is to lift the burden of making arrangements and planning details, allowing the family to focus on supporting each other. These details include creating slide shows or memory books, drafting and printing folders for a service, contacting the Veterans Administration to coordinated military burials or coordinating transport from locations throughout the world.
"When you need help with your finances, you go to a financial counselor," explains Carter. "When you need help with the end of life, you come and see us. We understand the scattered feeling people have after the death of someone they love. This is where we can help. We think of the things for families that they don't even know that they need."
Sticklin Funeral Chapel
1437 South Gold, Centralia
360-736-1388
Sponsored